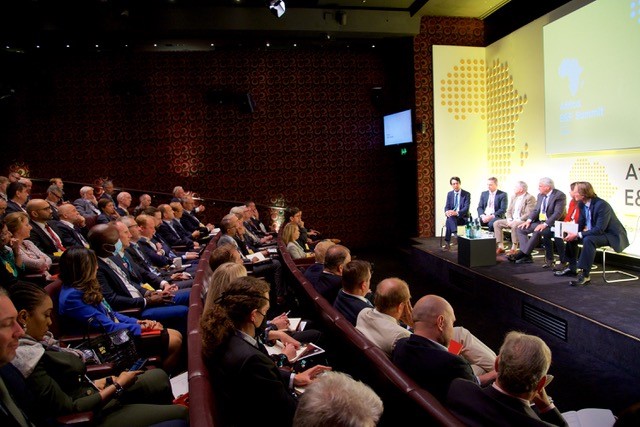 A blanket policy of renewables at the expense of hydrocarbons is "holding back Africa's development potential", a white paper from Frontier has warned.
The report, titled "Africa deserves a just transition", was based on a series of roundtables at the conference organiser's recent event in London.
The idea of the energy transition is based on economies that have reached a level of industrialisation, which can now decarbonise infrastructure and reach net zero by 2050. Such a view "fails to take into account the realities on the ground in Africa", the report said.
Around three quarters of the world's people who lack electricity access are in sub-Saharan Africa, at around 570 million people.
The challenge in Africa is therefore not entirely the same as for other parts of the world. Rather than an energy transition, "energy progression" might be a better description, it said.
William Pollen, director of Invest In Africa, said African government should do more to call for investments.
"Governments have to say we need and want this investment, and this is how it is going to benefit society and the people," agreed Pollen. "Explain that it is going to be spent on education, healthcare and infrastructure and build up their ESG credentials that way."
Leaving a legacy
African states should focus on power plans in various iterations. These could include gas-to-power, regional electricity grids and hybrid schemes, coupling renewable energy with hydrocarbons.
Furthermore, the report suggested compelling oil and gas producers to invest in renewables and infrastructure. This would be in order to ensure they left behind a "tangible legacy", the paper said.
Providing more scope for Africa's hydrocarbon needs will be a net gain, it continued. Social change in Africa will come only through helping the continent commercialise its own oil and gas resources. This requires access to capital.
Furthermore, desire for new energy in other parts of the world will require minerals produced in Africa. Cobalt and platinum, for instance, are likely to play essential parts in delivering renewable energy around the world. These mines will need reliable sources of power, just as will those around them hoping for a better life.
Frontier is working on a transition of its own. The organiser has relaunched its Africa E&P Summit as Africa Energies Summit. The event will take place in May 2022 in London.
Recommended for you

Sasol signs up green power at Secunda, Sasolburg