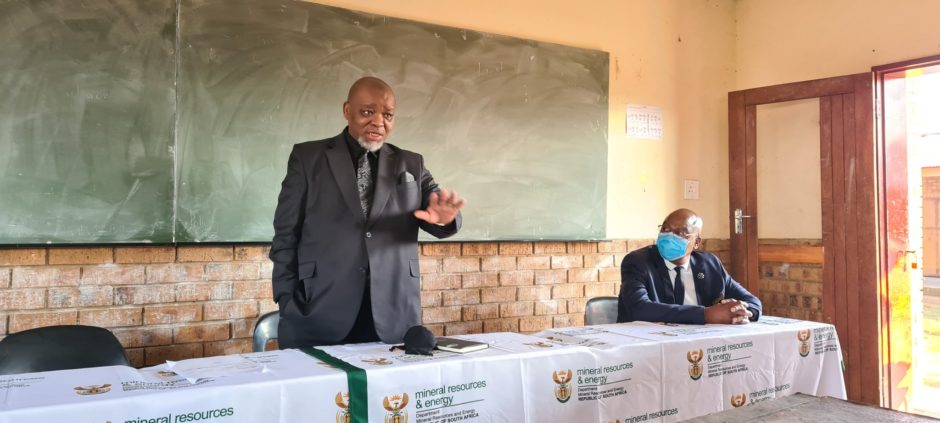 South Africa sees it as "imperative" to add more gas suppliers, in order to help develop the local sector.
Currently, gas accounts for just 2.6% of the country's energy mix. It aims to increase this to 15.7% by 2030.
The Department of Mineral Resources and Energy (DMRE) has released its Gas Master Plan base case report and is seeking public comments. The plan will serve as a roadmap for "strategic, political and institutional decisions", the ministry said.
There are challenges ahead, not least Eskom. The power company's "financial solvency and plant reliability issues" threaten South Africa's power supply. "Urgent decisions on structural changes are required in order to address security of energy supply," the DMRE report said.
Members of the public are invited to comment on the plan until January 31, 2022.
Renergen CEO Stefano Marani noted South Africa's high level of emissions on a GDP basis.
"This means that we have long way to go before our economy would be considered "green", and therefore gas represents the quickest, easiest "win" when it comes to decarbonising our economy. Gas also represents the fastest means of putting baseload on the grid compared to almost any other energy source, which makes it a very attractive way to keep our economy alive," he said.
"In summary, gas has a very bright medium-term future in SA as a transition fuel while the world figures out how to make reliable renewable energy for baseload."
Sourcing
Most of South Africa's gas is imported from Mozambique, from Sasol's Pande and Temane fields. State-owned PetroSA also has an offshore field, which it uses to feed its gas-to-liquid (GTL) plant at Mossel Bay.
The DMRE report said PetroSA's reserves would run out by 2029, while Sasol's Mozambique fields will decline by September 2023. Sasol is also working on a next wave, which involves local power generation in addition to additional gas exports to South Africa.
Mozambique is likely to continue playing a role in meeting South Africa's needs. In addition to Sasol's operations, there are LNG development plans in the northern Cabo Delgado Province and potential coal-bed methane (CBM) supplies in Tete.
Other sources may include Zimbabwe, where Invictus Energy is working on the Cabora Bassa project.
There is scope for more domestic supply, though. TotalEnergies is working on the Brulpadda and Luiperd discoveries offshore, with discussions of an early production system (EPS). Renergen is also working onshore, in the Free State.
Brulpadda is the "most bankable supply option", the report said, noting a targeted first gas date of the end of 2025.
In the short term, imports are the only way to meet more immediate demand. Demand in South Africa peaks in winter, when it is summer in the northern hemisphere. As such, the country could "make competitive LNG purchases and take risks on spot pricing".
Demand
South African demand is primarily clustered in Gauteng and Mpumalanga, in Sasol's Secunda and Sasolburg plants respectively. Further demand is in KwaZulu-Natal and with PetroSA's GTL plant.
The DMRE expects that the power sector will dominate future gas demand, accounting for 57% of the market. Industry will account for 37%, it said. Transport has scope to grow, in future, it said, but is comparatively small and "is unlikely to anchor gas development".
The report called for the initial focus to be on power generation and GTL.
The shift to gas would require South Africa to build more gas-fired power plants and pipelines. The DMRE identified six coal-fired power plants due to end operations by 2030, which may offer some scope for conversion to gas. These are mostly in Mpumalanga.
The report also noted Tshwane was working on plans to lease and upgrade two power plants, from anthracite to gas.
Broadly speaking, the DMRE report said, South Africa's gas policies were well equipped for expanding the sector. However, there is some "risk of confusion or delay" given the number of regulating bodies. Furthermore, environmental regulations can be a barrier to entry.
Cracking how to support the gas sector would have a number of benefits to South Africa, the DMRE said. It would create jobs and support the economy, particularly from domestic sources.
However, while the DMRE noted that gas was cleaner burning than other fossil fuels, the resource still faces opposition from some. The US, for instance, recently set out plans to move away from financing oil and gas projects overseas, a line the UK took earlier this year.
Updated on December 17, at 1:57 pm with comments from Renergen's Marani. 
Recommended for you

PetroSA lines up sanctioned Gazprom unit for Mossel Bay