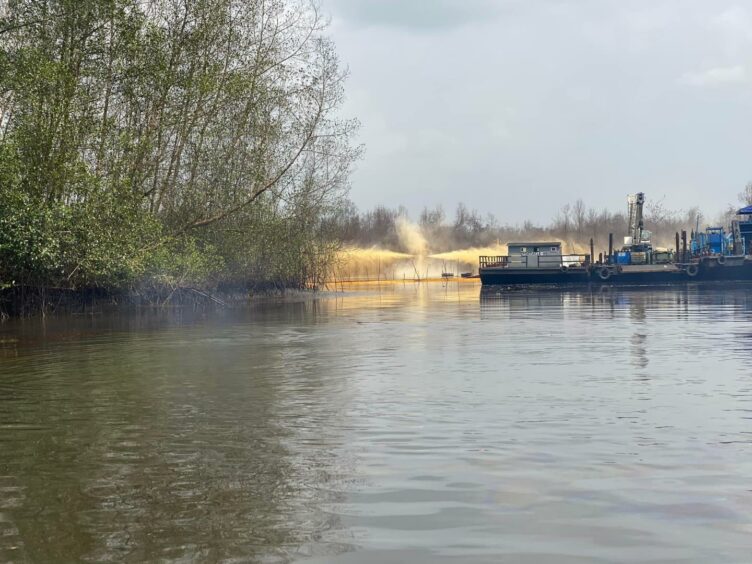 Bayelsa State has come out against an analysis of the Aiteo E&P oil spill that absolves the company of guilt.
National Oil Spill Detection and Response Agency (NOSDRA) has pinned the blame on human agency. An official from the agency said there was "no way the pressure from the well could have removed those valves. The most likely cause … was external influence."
Bayelsa has disagreed – and refused to sign off on the joint investigation visit (JIV), which the federal agencies issued on December 22.
The local state government insists the cause of the spill is equipment failure. A statement from Bayelsa said it would "take all appropriate steps to pursue environmental justice for itself and affected communities". It aims to end the "perennial pollution of our environment through reckless and irresponsible oilfield practice that is condoned by a weak or compromised regulatory system".
Aiteo brought the Santa Barbara 1 well, in Nembe, under control on December 8. The JIV took place on December 17. Participating were NOSDRA, the Nigeria Upstream Petroleum Regulatory Commission (NUPRC), Aiteo and Bayelsa State representatives.
Nigerian Navy officials stopped a correspondent from Arise News from accompanying the state delegation. Bayelsa accused Aiteo of using the Nigerian Navy.
Federal Minister of the Environment Sharon Ikeazor held talks with Bayelsa Governor Douye Diri, allowing another JIV to take place on December 22.
Cahoots
The two federal agencies, NOSDRA and NUPRC, plus Aiteo blamed the spill on sabotage. Bayelsa, the Nembe local council and host community blamed equipment failure.
As a result, Bayelsa refused to sign off on the JIV report as there was no scope for it to present an alternative opinion.
Bayelsa said Aiteo's removal and replacement of the wellhead equipment amounted to tampering of the accident scene. Similar spills had taken place on the same well in 2018 and 2019, it continued, with Aiteo failing to take action.
The state went on to say the NOSDRA and NUPRC officials had acted in a way to undermine their independence. "We are convinced that NOSDRA and NUPRC are biased and are playing a script in cahoots and concert with AITEO," the statement said.
Bayelsa will provide evidence of this at a later date, it said.
The impact of the spill is unclear. Aiteo reports it has collected around 16,000 barrels of free phase oil.
Recommended for you

Nigeria's focus on thieves misses metering miscalculations