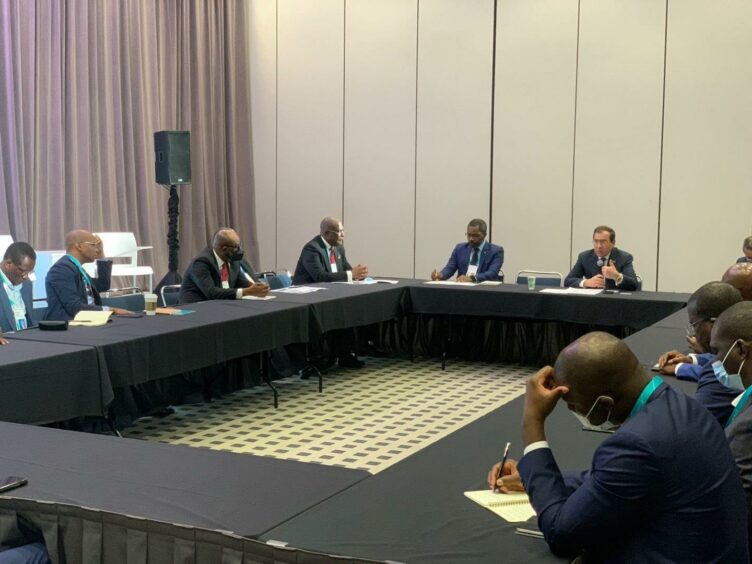 Egyptian Minister of Petroleum and Mineral Resources Tarek El Molla has held high-level talks with Chevron, and various other US luminaries, at CERAWeek.
The Houston conference runs from March 7 to 11.
El Molla held discussions with Chevron Africa & Latin America E&P president Clay Neff. The two discussed Chevron's plans in the East Mediterranean, and LNG exports, in addition to new opportunities in the Western Mediterranean and Red Sea.
El Molla said the two sides had a "common vision" for development. Chevron's entry into the market place confirmed the country's appeal.
Neff, meanwhile, expressed optimism about Chevron's work in the country – and the support of the Ministry of Petroleum and Mineral Resources. As such, the US major aims to accelerate its plans.
The Arab American Chamber of Commerce held a discussion session at the headquarters of Apache, with El Molla as a guest. The minister talked about the increased interest in exploration and production, noting recent moves by ExxonMobil and Chevron in Egypt.
The North African state is also working on carbon capture, utilisation and storage (CCUS) projects, he said. It has rolled out 13 flare gas projects. Tackling flared gas has reduced Egyptian emissions by 900,000 tonnes per year of CO2.
El Molla also held talks with US officials, including Secretary of Energy Jennifer Granholm and global energy security advisor Amos Hochstein. Discussions focused on the East Mediterranean Gas Forum.
Energy access
Egypt and Israel hold substantial gas resources that can go to regional needs, such as Jordan and Lebanon, but also further afield. Given the events of the last month, Europe is on the hunt for additional gas supplies and the East Med would be a natural choice.
El Molla also discussed plans with the US officials, and various African governments, for COP27. This is due to take place in Egypt in November of this year.
The minister met his counterparts from Cote d'Ivoire, Equatorial Guinea, Ghana, Namibia, Nigeria, Tanzania and Kenya in Houston.
The group talked over Africa's prospects against the backdrop of energy and climate concerns. El Molla discussed the need for a fair energy transition, which would stimulate economic growth and control emissions.
Egypt is working on plans to scale up its gas sector. The country has 420,000 cars running on CNG, so far.
Beyond this, it has also raised interest in working in hydrogen, particularly for export into Europe. In the short term, this will be blue hydrogen, although with a longer-term move into green hydrogen.
Last week, the ministry hosted an Eni delegation. The Italian company is working on  new investments in the Gulf of Suez and the Nile Delta.
Recommended for you

BP talks up $3.5bn investment in talks with Egypt president