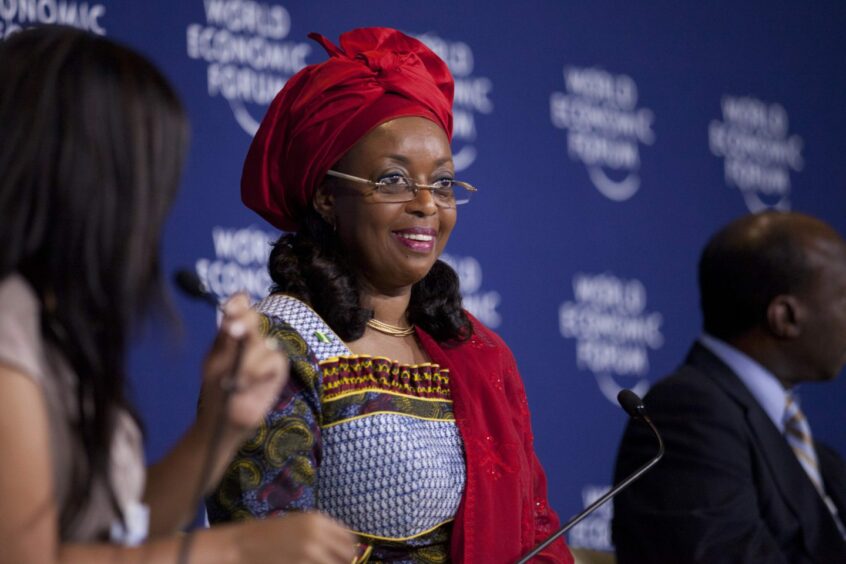 The National Crime Agency (NCA) has charged Nigeria's former petroleum minister with accepting bribes in exchange for awarding oil and gas contracts.
Diezani Alison-Madueke, aged 63, was a "key figure" in Nigeria's government from 2010 to 2015. She was arrested in London in 2015 after leaving government.
The UK agency's move follows a long-running campaign by Nigeria's Economic and Financial Crimes Commission (EFCC). The US Department of Justice (DoJ) announced progress in prosecuting crimes associated with her tenure in March.
The NCA said Alison-Madueke had received at least £100,000 in cash, in addition to holidays, trips on private jets and the use of London properties. Other ways in which she received bribes, the NCA allege, include furniture, renovations, school fees and gifts from designer brands such as Cartier and Louis Vuitton.
Alison-Madueke lives in St John's Wood, in north London. She will appear at Westminster Magistrates Court on October 2.
The head of the NCA's International Corruption Unit (ICU) Andy Kelly said the agency suspected the former minster of abusing her power. She "accepted financial rewards for awarding multi-million pound contracts. These charges are a milestone in what has been a thorough and complex international investigation."
Strategic alliances
Previously, charges have focused on links between Alison-Madueke and two businessmen, Kola Aluko and Jide Omokore.
In 2011 and 2012, Nigerian National Petroleum Corp. (NNPC) awarded strategic alliance agreements (SAAs) to companies controlled by Aluko and Omokore. The companies failed to pay their agreed share of costs but reaped substantial rewards from exports.
The NCA participated in the US' action in March this year. The DoJ confiscated $53.1 million in proceeds connected to the Madueke case. The UK agency has also worked with the EFCC, it said.
The Crown Prosecution Service (CPS) has reviewed the charges against Alison-Madueke and decided they should go ahead, the NCA statement said. "Criminal proceedings against Ms Alison-Madueke are active and she has the right to a fair trial," CPS chief crown prosecutor Andrew Penhale said.
Alison-Madueke worked for Shell Petroleum Development Corp. (SPDC) in 2006 before joining the government in 2007. When Goodluck Jonathan became president in 2010, he appointed Alison-Madueke to the oil ministry.
She moved to the UK after Jonathan's administration ended, reportedly to seek treatment for breast cancer. Her children have attended UK universities, with her son recently graduating from Reading.
London links
The NCA did not reveal further details of the allegations. However, US filings on the case have highlighted some aspects that fall within the UK. A US filing claimed that Omokore and Aluko, in exchange for their SAAs, purchased £11.53mn worth of properties in London and Buckinghamshire.
Aluko is alleged to have made payments via a UK-registered company, Tenka.
The US filings also show Alison-Madueke as running out of patience with how her accomplices were spending money.
"If you want to hire a yacht, you lease it for two weeks or whatever. You don't go and sink funds into it at this time when Nigerian oil and gas sector is under all kinds of watch", she told Aluko. The warning came after he had bought the 65-metre Galactica Star yacht for $80mn.
Alison-Madueke is likely to fight the UK charges. She filed a suit in May against Nigeria's EFCC saying the agency had defamed her and should pay $215mn in damages.
Earlier this year, Bloomberg reported Seyi Tinubu – son of President Bola Tinubu – had spent $11mn to buy a house in London's NW8 post code, under a mile from one of Alison-Madueke's flats. The former owner of the house bought by Tinubu's son? Kola Aluko.
Recommended for you

Brothers fighting fraud charges from India are flourishing in Nigeria