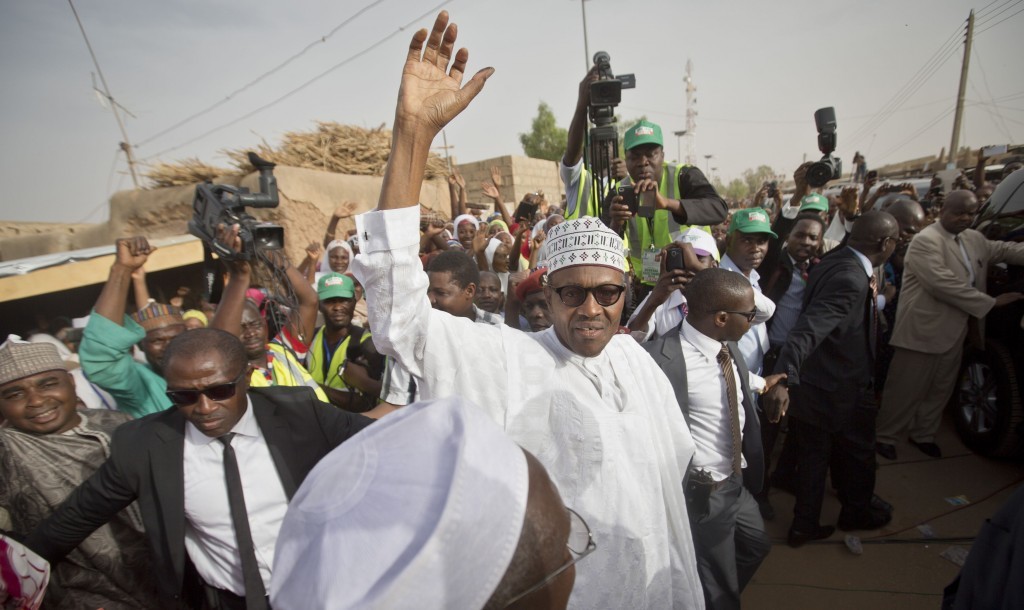 Retired General Muhammadu Buhari has won Nigeria's presidential election but fears "tricks" from the government, his spokesman says.
Garba Shehu said the opposition candidate's polling agents across the country say Gen Buhari has succeeded in defeating President Goodluck Jonathan.
He spoke as vote counting gives Buhari, 72, a commanding lead.
"As for the election, we have won it," said Mr Shehu. "We are not out of the woods yet, we don't know what tricks the government is going to play."
Britain and the United States have warned of signs of political meddling in the final tally from Saturday's election
If Gen Buhari wins and President Goodluck Jonathan steps down, it would mark the first time in Nigeria's history that an opposition party has democratically taken control from the ruling party.
Results from 31 states and the small Federal Capital Territory, amounting to some 22 million votes, showed Gen Buhari leading by nearly three million votes.
He crucially carried Lagos state, Nigeria's commercial hub with the largest number of voters.
Electoral officials said they were awaiting results from just five states to give a tally of Saturday's election and expect to announce a final count later in the day.
In the northern city of Kaduna, a spontaneous celebration of Gen Buhari's followers sprang up. Young men on scooters performed wheelies as hundreds of youths chanted: "Change! Change! Change!" and cars honked their horns in support.
In Kaduna state, Gen Buhari took 1.1 million votes to Mr Jonathan's 484,000.
After the warning of possible political meddling, Mr Jonathan's campaign spokesman Femi Fani-Kayode said the claims were "absolute balderdash" and demanded evidence.
Mr Shehu said the opposition party's agents at more than 150,000 polling stations across the country "tell us that we have won, but our victory is still threatened".
The winning candidate must take more than half of all votes and at least 25% of votes in two-thirds of the 36 states and the Federal Capital Territory at Abuja.
The austere and strict retired general, who says he is a convert to democracy, has promised that if he wins he will stamp out an insurgency in the north waged by Boko Haram.
The home-grown Islamic extremist group has killed thousands of people, many of them civilians, kidnapped young girls and pledged fealty to Islamic State.
Critics and supporters agree that Gen Buhari is the one leader who did not treat the country's treasury as a personal piggy bank.
During his brief 1984-1985 dictatorship he ruled with an iron fist, jailing people even for littering, and ordering civil servants who arrived late to work to do squats.
He gagged the press and jailed journalists to cover up a deepening economic crisis as prices tumbled for the oil on which Nigeria's economy depends. He was eventually overthrown by his own soldiers.
Nigeria's 170 million people are divided almost equally between Christians – mainly in the south – and Muslims such as Gen Buhari who dominate the north.
For the first time, he has won states in the south-west and even took one third of votes in a south-east state – an unprecedented development that some say reflects more of an anti-Jonathan than a pro-Buhari sentiment.
The vote counting in Abuja was disrupted today by a representative of Mr Jonathan's party who protested that the proceedings were partial to Gen Buhari.
"We have lost confidence in you. You are tribalistic, you are partial," shouted former Cabinet minister Peter Godsday Orubebe to the chairman of the electoral commission counting the vote.
The opposition has also complained that electoral officials are partisan. The count is being carried out in the presence of party representatives, national and international observers and media.
There have been delays in about a dozen states sending in results because of logistical challenges that had election material being delivered by air, road, speedboat, mules and camels, spokesman Kayode Idowu of the Independent National Electoral Commission said.
"If indeed Buhari becomes president, it sends a clear message to the people in government that you cannot take the people of Nigeria for granted and that Nigerian democracy is maturing," said journalist and political analyst Kadaria Ahmed.
She said Mr Jonathan's perceived insensitivity to the suffering of citizens caught up in the mayhem of Boko Haram's uprising had hurt him.
The Nigerian military, with help from regional troops, forced Boko Haram out of areas the insurgents had taken in recent months as they formed their self-styled "caliphate".
Because of decades of military dictatorship, this is only the eighth election since the country won independence from Britain in 1960 and the fifth since democracy was restored in 1999.
Recommended for you

Buhari to launch northern Kolmani River development