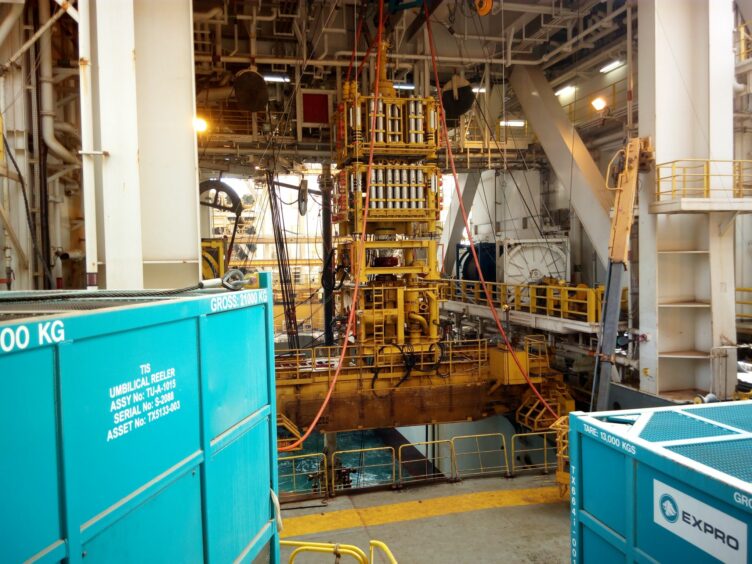 Expro has completed a plug and abandonment (P&A) contract offshore Mauritania for Petronas.
The company said the contract was valued at more than $20 million. It carried out the work for PC Mauritania, a subsidiary of Malaysia's national oil company.
Expro used its open water intervention riser system (OWIRS) for the intervention and barrier placement on 15 wells on the Chinguetti Field Phase II project.
The company said it had managed to save time by retrieving subsea trees without an additional run. It used the rig's dual derrick to deploy the OWIRS and blow out preventer (BOP) from the auxiliary and primary well, saving more time.
"The OWIRS system is a highly reliable compact system with an extensive track record in riser to surface subsea well access operations," said Expro vice president Graham Cheyne. "This system performed over 250 functions during the project with 100% operational uptime and no non-productive time (NPT) incurred.
"To further demonstrate its reliability post operation, a gas testing programme of work was successfully performed on completion of the 15 wells, prior to any post job maintenance being carried out and before readiness for the next project."
Expro helped the Petronas team through planning and execution. It also worked with Worldwide Oilfield Machine (WOM), which provided the subsea well access system and a technical support team.
Rocky road
Pacific Drilling awarded the contract to Expro in July 2019.
The company had completed subsea well access on nine of the 15 wells by the end of March 2020. At that point, COVID-19 struck. Petronas declared force majeure on the Pacific Drilling contract on March 29, 2020.
The rig company agreed to leave the rig on stand by, with some Expro workers having to remain onboard. By the end of 2020, the rig was heading back to Mauritania.
"The campaign's success combined with our continued expansion of our subsea well access offering has helped us to secure several new contracts across Asia and Australia, enhancing Expro's already strong presence in the subsea well access market," said Cheyne.
Expro set out plans to merge with Frank's International in March. Expro will have 65% of the shares in the combined venture, while Frank's shareholders will have 35%.
Frank's will bring its position in the Americas to the combined company. Expro has a footprint in North Africa, the Middle East and Asia.
Expro expects the merger to close by the end of September.
Recommended for you

Shell, Petronas commit to Phase 10 at Egypt's WDDM