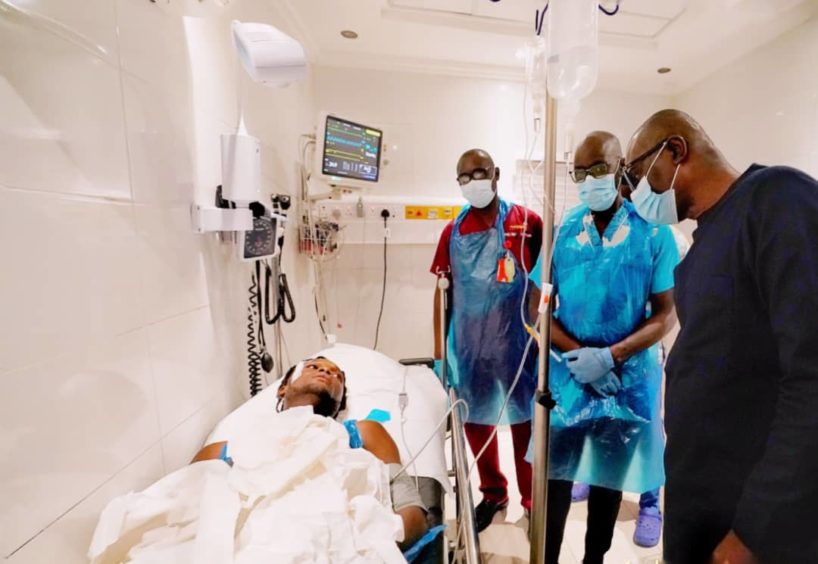 A Nigerian protest movement calling for changes to policing has received support from a group of Niger Delta militants, while coming under fire in Lagos.
Armed government units appear to have used live ammunition in a confrontation at the Lekki toll bridge, in Lagos, on October 20. Local reports have suggested as many as 20 people were killed and 50 wounded.
Amnesty International said there was "credible but disturbing evidence of excessive use of force occasioning deaths of protesters" at the Lekki site.
Protests began earlier in October when the Special Anti-Robbery Squad (SARS) allegedly shot dead a man. People began calling for an end to the SARS unit.
On October 11 Nigerian President Muhammadu Buhari announced the unit would be disbanded and members moved to other branches. He then launched a new unit, the Special Weapons and Tactics Team (SWAT).
The president's move failed to quell protests, which spiralled into a number of additional demands.
The Lagos government imposed a 24-hour curfew but demonstrators refused to disperse. Protestors at the Lekki bridge were reported to have been singing the Nigerian national anthem when they were fired upon.
Lagos Governor Babajide Sanwo-Olu described the events of October 20 as the "toughest night of our lives as forces beyond our direct control have moved to make dark notes in our history, but we will face it and come out stronger".
The governor went on to say he would work with the federal government to "get to the root of this unfortunate incident and stabilise all security operations to protect the lives of our residents".
Denials, protestations
The Nigerian Army has denied accusations that it was involved in the shootings.
While demonstrators have largely focused on the issue of police brutality, some have taken advantage of the movement.
A prison in Benin City was attacked and some inmates freed, for instance. The Nigerian police have complained of attacks on their facilities.
The Pan Niger Delta Forum (Pandef) condemned attacks on protestors across the country by the police.
The Reformed Niger Delta Avengers (RNDA) also declared their support for the protests. The RNDA threatened to attack oil facilities and pipelines.
In particular, the group said it would target a Chevron platform at Abiteye, in Warri South, and Shell's Forcados pipeline. The RNDA went on to say it would cut off gas supplies to Lagos and Abuja.
The group called for pipeline surveillance jobs to be awarded to local communities. Furthermore, the government should pay oil revenues direct to the people, rather than to governors.
The US embassy issued a security alert, noting demonstrations in the consular areas of Abuja and Lagos. "Although most demonstrations are peaceful, some have become violent and have shut down major thoroughfares and bridges," it said.
UK MP Kemi Badenoch, whose parents are Nigerian, said London had been involved in attempts to reform SARS since 2018.
I have friends and family out there taking part in these protests and get day by day updates. My solidarity of course is with them. As for my own unpleasant encounters with Nigerian police…that's a story for another day. (5/5)

— Kemi Badenoch (@KemiBadenoch) October 17, 2020