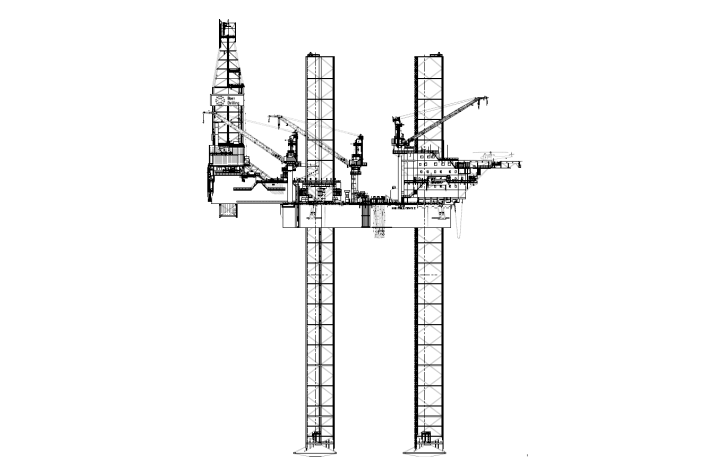 BW Energy has acquired two jack-up rigs and hatched a new plan for the development of the Hibiscus/Ruche field, offshore Gabon.
The operator said it had paid $14.5 million for the two rigs, Atla and Balder, from Borr Drilling. Borr has confirmed the sale.
BW said the plan would involve a converted jack-up, to cut costs and time to first oil. Equipment will be converted rather than the construction of a new wellhead platform.
The new plan will cut the breakeven cost for the Phase 1 and 2 developments, to around $25 per barrel. As a result of this additional production, overall costs at Dussafu will fall to $11 per barrel.
"A jack-up conversion will enable us to reduce capital investments by about $100 million compared to our previous development plan," said BW's CEO Carl Krogh Arnet. "We are benefitting from the availability of high-quality jack-up units at very attractive prices due to the current drilling market slump. By re-using facilities we will also achieve a substantial reduction in field development related CO2 emissions compared to a newbuild platform."
A final investment decision (FID) on the development is subject to the lifting of COVID-19 restrictions. The company took FID on the plan in the fourth quarter of 2019, but then put this on pause in March. The first plan had carried a projected cost of $660mn for both phases.
In September, BW said FID was expected on the Hibiscus/Ruche development in 2021 and peak output would come in 2024. Ruche would lift production at the Dussafu licence to around 45,000 bpd.
Obvious synergies
CEO Arnet went on to say the new plan "offers tangible financial, schedule and environmental benefits. We have consequently decided to secure a second jack-up at a very attractive price to prepare for the future development of the Dussafu licence.
"Acquiring a sister unit will enable us to re-use the engineering and project plans for a second development with obvious synergies."
Redeployment and conversion should cut greenhouse gas emissions by 70-80%. It cuts the amount of steel needed and time in a yard. Using a jack-up will also cut installation costs as it can self-install, without needing more piling on the seabed.
Borr announced the sale of the Atla rig last week. The rig is cold stacked in the United Arab Emirates, the company said in an August fleet report. The Balder rig is also cold stacked and is in Cameroon.
"Through a combination of transactions, Borr's aim was and remains to build a world leading premium jack-up drilling contractor focused in younger units. The BWO transaction divests two of the older units within the fleet so is in keeping with that strategy and provides the company with some much needed additional cash flow. However, there is still a considerable way to go to right the over levered balance sheet," said Gneiss Energy's senior consultant Barry Wingate.
BW has also carried out seismic reprocessing. New information suggests there may be a "significant increase" of oil-in-place at Greater Hibiscus. This would make further developments at Hibiscus/Ruche "highly likely".
The operator also provided an update on third quarter production. Gross output from Tortue averaged 15,449 barrels per day, with the company carrying out one lifting. The realised price was $46 per barrel, while production costs were $19.6 per barrel.
Updated on November 4 at 1:42 pm with comment from Gneiss' Wingate. 
Recommended for you

BW Energy scores Gabon find, plans production in 2024