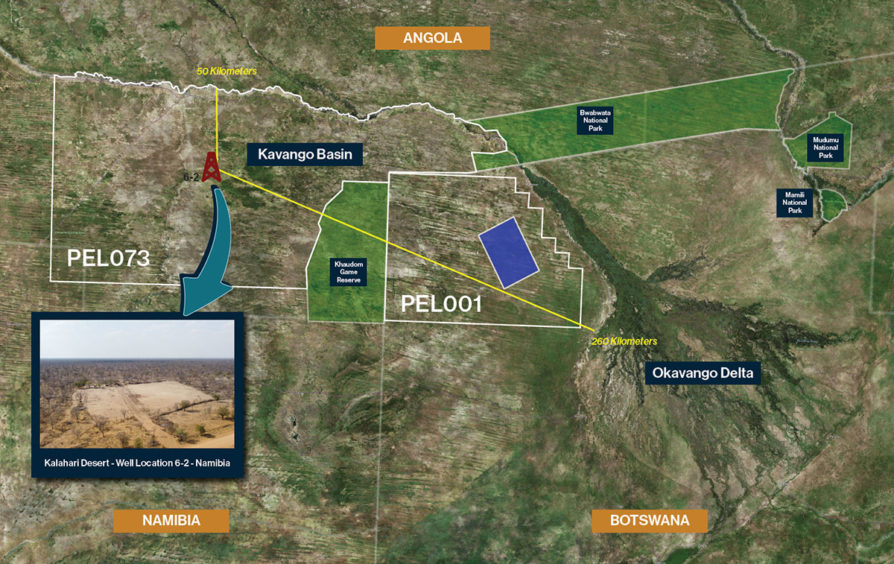 Reconnaissance Energy Africa has begun drilling its first well in Namibia's Kavango Basin.
The well, 6-2, is the first of three wells in northeast Namibia. The company intends to reach a total depth of 12,500 feet (3,810 metres). Drilling and initial analysis of the well should take 45 days.
The first part of the well will reach 4,800 feet (1,463 metres). ReconAfrica will then run sidewall cores and logs to identify conventional targets. The company has said it expects to reach the top of the Permian section at around 4,000 feet (1,219 metres).
The second stage will be drilled to the target depth, through intermediate and lower Permian sections. ReconAfrica will carry out additional testing for the lower section. Schlumberger will provide logging for both sections.
ReconAfrica's SVP of drilling and completions Nick Steinsberger said drilling three wells in a "newly discovered Permian basin, where one company holds all of the rights, is certainly a rare opportunity. There are many important similarities between the Kavango basin and the Permian Basin in West Texas, one of the world's most prolific producing basins, where I have been actively drilling and completing wells for many years."
ReconAfrica's geochemist Dan Jarvie said: "Geological and geochemical analysis will provide details on potential, stacked conventional reservoirs as well as multiple petroleum source rocks. Petroleum source rock and stratigraphic analysis will provide the Company with a basis for assessing the timing of light oil generation, its expulsion and migration to conventional reservoirs for future production."
Given opposition to the Canadian minnow's plans, amid concerns about hydraulic fracturing, ReconAfrica made much of its drilling fluid plans. Valence Drilling Fluids will provide organic and biodegradable fluids, which are "fully environmentally safe".
Community links
ReconAfrica is also working to drill three water wells for the community. The company has published a report putting forward a number of testimonials from locals, who benefit from better access to water.
"Two of the most basic essential requirements to end poverty is accessibility to affordable and sustainable energy along with the development of local infrastructures," the company said.
ReconAfrica's statements that it is pursuing conventional oil have not swayed opponents of the company. Frack Free Namibia & Botswana has continued to accuse the minnow of planning to carry out fracking.
It also cited Bishop Geoff Davies, head of the Southern African Faith Communities' Environment Institute (Safcei) who issued a statement in December calling for investors to withdraw money from fossil fuel companies. The bishop said that if ReconAfrica's drilling goes ahead, "it would be tantamount to genocide".
ReconAfrica is not the only company planning to drill in Namibia this year. Other plans are primarily focused on the offshore. Total will drill its Venus well around mid-year, while Shell and Maurel et Prom may drill in 2021-22.
Recommended for you

ReconAfrica, Invictus near launch of drilling