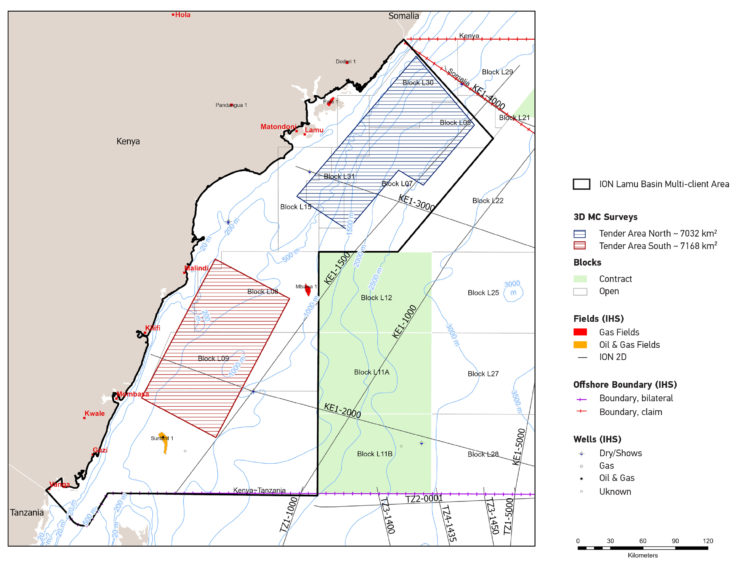 ION Geophysical has won 3D work offshore Kenya, ahead of a licence round expected in the near term.
The company will carry out two seismic projects. One covers new 3D acquisition in the offshore Lamu Basin. The second involves the reimaging of vintage data offshore Kenya.
"We are pleased Kenya's Ministry of Energy and Petroleum selected ION to increase the understanding and promote the hydrocarbon potential of these offshore resources to attract future investment," said ION senior vice president Joe Gagliardi.
"The programme will leverage our extensive data library and knowledge offshore Kenya and East Africa.
"In an increasingly competitive environment for seismic data, we have geographic exclusivity in a promising, underexploited geography to execute our 3D strategy, for both new acquisition and reimaging programmes. Kenya represents a fourth significant opportunity to diversify our successful 3D reimaging, in addition to Mexico, Brazil and Mauritania."
The work in the Lamu Basin will cover around 14,000 square km and is the larger part of the award. ION will carry out the multi-client work with BGP on the north and south of the basin.
A licence round will follow the seismic shoot.
On the hunt
The company will begin the reimaging work – KOR 3D – immediately. This will cover 13,000 square km of vintage 3D offshore Kenya. ION said this would involve an advanced PreSTM and PreSDM workflow.
Companies have drilled 13 offshore exploration wells in the area but without a commercial discovery as yet.
ION, though, noted it was a proven hydrocarbon basin and the new coverage is suited to new discoveries and prospects. It will integrate the new data with existing 2D coverage.
The geophysical company has carried out a number of projects in the region. Its East AfricaSPAN programme captured more than 37,000 km of data, in the offshore of Seychelles, Madagascar, Kenya, Tanzania, Mozambique and Comoros.
Recommended for you

BW Energy takes two blocks in Gabon's delayed round