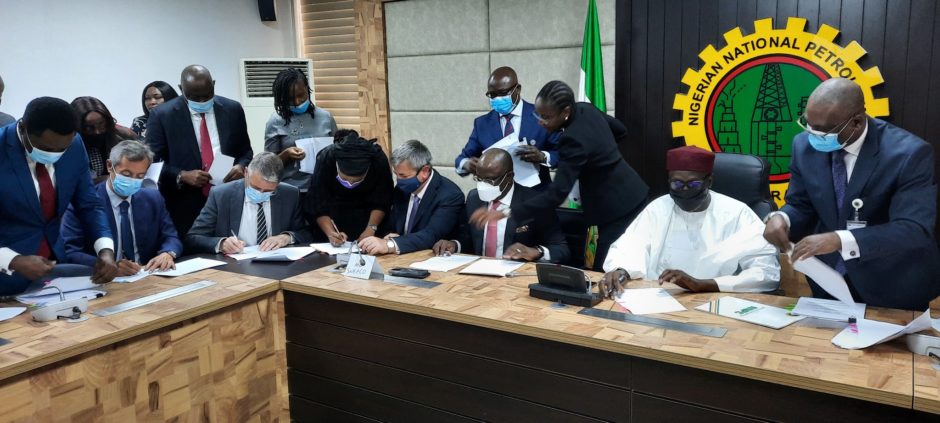 Nigerian National Petroleum Corp. (NNPC) has signed an agreement with its partners on OML 118, home of the Bonga field.
The company said it had signed the deal with Shell Nigeria, ExxonMobil Nigeria, Total Nigeria and Eni's Nigerian Agip Oil Co. (NAOC).
NNPC described the agreement as a "watershed" in how it would administer deepwater operations in Nigeria. More than $10 billion of investments will "be unlocked as a result of this development", it said.
NNPC head Mele Kyari noted there were benefits to the deal beyond paving the way for new projects.
It provides "immediate income for government in the excess of $780 million, opportunity to resolve long-standing dispute with contingent liabilities of $9 billion for all of us and ultimately seeing growth in our country where investments will come in to assets. This country is ready for business and we're very grateful."
In particular, it said, the agreement settles a long-standing dispute on the production-sharing contract (PSC). The agreement starts a "new PSC with clearly aligned terms", NNPC said.
The new PSC will run for 20 years. It resolves a number of disputes stemming from the previous contract.
The company highlighted that the new PSC provided new stability to support investments in the deepwater. The new PSC will facilitate the $16bn Bonga South West Aparo (BSWA) project, led by Shell Nigeria Exploration and Production Co. (SNEPCO).
Nigeria has previously said that BSWA may hold 1 billion barrels of oil.
The BSWA plan
A Shell spokesperson said: "Through these agreements, stakeholders will have clear and stable set of terms incentivising further development of the OML 118 block and opening further opportunities in the prolific Nigerian deep water oil and gas industry.''
Shell set out an invitation for a new floating production, storage and offloading (FPSO) vessel in February 2019 for BSWA.
The field is around 15 km from the existing 225,000 barrels per day Bonga FPSO, which started producing in 2005. BSWA would have capacity of 150,000 bpd. It lies in OML 118, 132 and 140.
Shell launched the tender the day after it reached a heads of terms revising the OML 118 PSC. The deal today completes this contract renegotiation process.
Speaking in 2019, SNEPCO's then managing director Bayo Ojulari said the new terms would spur the second generation of offshore exploration and development. "This is a model that we see being replicated in the industry to further unleash Nigeria's potential in deepwater exploration," he said.
SNEPCO is the operator of the BSWA project. In 2015, the company said the plan would reach a peak of 225,000 bpd, with plans for the world's largest FPSO. It subsequently scaled down its ambitions.
Updated on May 26 at 8:54 am with NNPC's Mele Kyari comments.
Recommended for you

Daewoo signs off on Kaduna plant repairs with NNPC