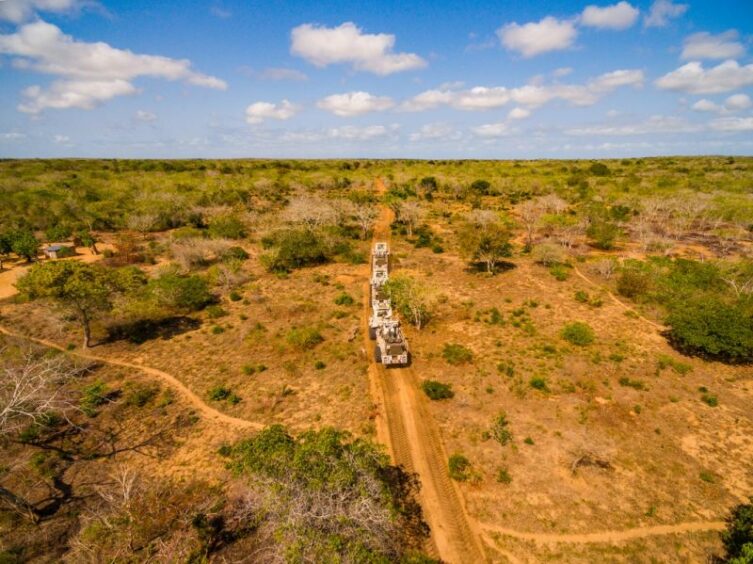 Geofizyka Torun has begun shooting 3D seismic onshore in Mozambique for Sasol.
The company said its teams had begun recording information in the eastern part of the onshore Pande field. The work makes up a wider seismic campaign planned for the coming months.
This survey will cover more than 240 square km of dense bush and villages, GT said. The company first had to carry out line clearance.
It is acquiring data with a Quantum Nodal Recording System, which the company says is the first use of this technology in Mozambique.
The Polish company has been working with Sasol Petroleum Mozambique in the country since 2016.
That year, GT carried out the first onshore 3D seismic in Mozambique, acquiring 115 square km on the Inhassoro field. It went on to shoot data on the Pande field.
In 2020, the Polish company carried out a 2D seismic study on the PT5-C block, in Inhambane Province. This provided more than 2,000 line km.
Sasol started drilling in Mozambique in August, with the aim of supplying additional demand.
Awards and rounds
Despite the security challenges in Mozambique's north, progress continues to come.
Empresa Nacional de Hidrocarbonetos (ENH) recently signed up to work with a UK-registered company, MozGas UK. Local reports said the UK company would hold an 80% stake in the Mazenga block, in the southern Inhambane province, close to Sasol's Pande and Temane fields.
The first phase of work will involve evaluation of existing data and reprocessing of seismic.
Mozambique has also talked about holding a sixth licensing round. The regulator has provided 2D and 3D datasets for the on- and offshore areas, in the Rovuma, Angoche and Zambezi basins.
GeoPartners is providing technical assistance to Instituto Nacional de Petroleo (INP), it said, and has merged and reconditioned seismic information into a single data volume. This provides more than 20,000 square km of 3D and more than 16,000 km of 2D.
Schlumberger, via its WesternGeco unit, has also highlighted its data on the country ahead of the planned sixth round.
Recommended for you

Searcher relaunches seismic plans, as SA ponders energy future