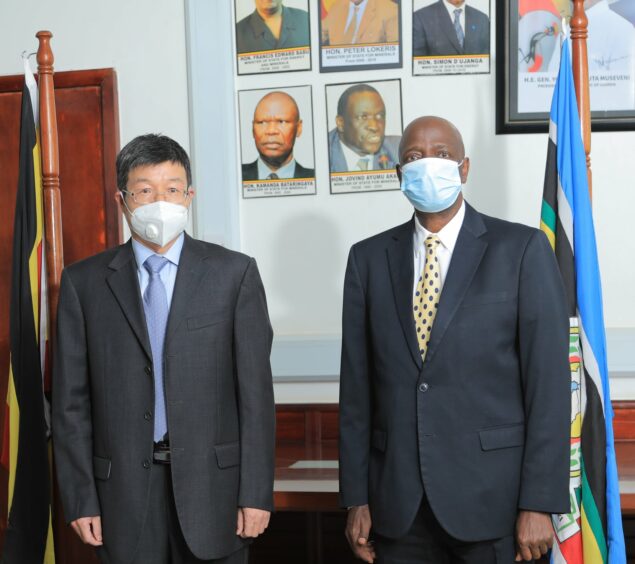 CNOOC Uganda has confirmed a final investment decision (FID) for the Kingfisher field, marking another step forward for the Lake Albert development.
Energy Minister Ruth Nankabirwa said on November 3 the chairman of CNOOC had reported the FID to her in writing.
I can confirm to you that @CNOOCUgandaLtd has taken its FID for the Uganda Oil projects and the chairman of @CNOOCUgandaLtd has written to me to confirm the same. They are now ready to invest in the Uganda Oil Project. Says @NankabirwaRS at the #UGOilandGasUpdates presser pic.twitter.com/LkY5tpCDuq

— PAU_Uganda (@PAU_Uganda) November 3, 2021
CNOOC Uganda president Chen Zhuobiao visited the head of the Petroleum Authority of Uganda (PAU) Ernest Rubondo and confirmed this decision.
Kingfisher will have 40,000 barrels per day of production. It will consist of four well pads, three of which are already in place but require upgrading.
The field will have around 20 production wells and 11 water injection wells. Wells will be drilled onshore and they will extend horizontally, under Lake Albert.
The CNOOC decision paves the way for progress on contract awards.
CNOOC has said wax content of the oil is 31.2%, so infrastructure will require heating. A 47 km pipeline will run to the proposed refinery site, at Kabaale.
TotalEnergies announced it had approved the projects in April. At that point, the French company said it expected first oil in 2025. TotalEnergies' Tilenga field will have 190,000 bpd of production.
President Yoweri Museveni, speaking to Bloomberg on the weekend, confirmed that production would start in 2025 and that "nobody will change that".
Pipeline plans
For work to start, the East African Crude Oil Pipeline (EACOP) must be confirmed. This will require parliamentary approval of a bill.
The EACOP bill has passed its first reading in the Ugandan Parliament on October 5. It requires three readings.
The bill attempts to reconcile existing law with the new legislation signed to support the oil project, notably the host government agreements (HGAs).
The bill sets the pipeline tariff at $12.77 per barrel initially, although this will rise every year.
Government agencies briefed legislators in the last week of October on the project. The Environment and Natural Resources Committee will study the bill until mid-November.
The PAU's Rubondo told legislators that approving the EACOP bill was a pre-requisite for the sector.
The bill covers a range of issues, including third-party access to the infrastructure and decommissioning funding.
Recommended for you

Tanzania approves EACOP construction as protests target financiers