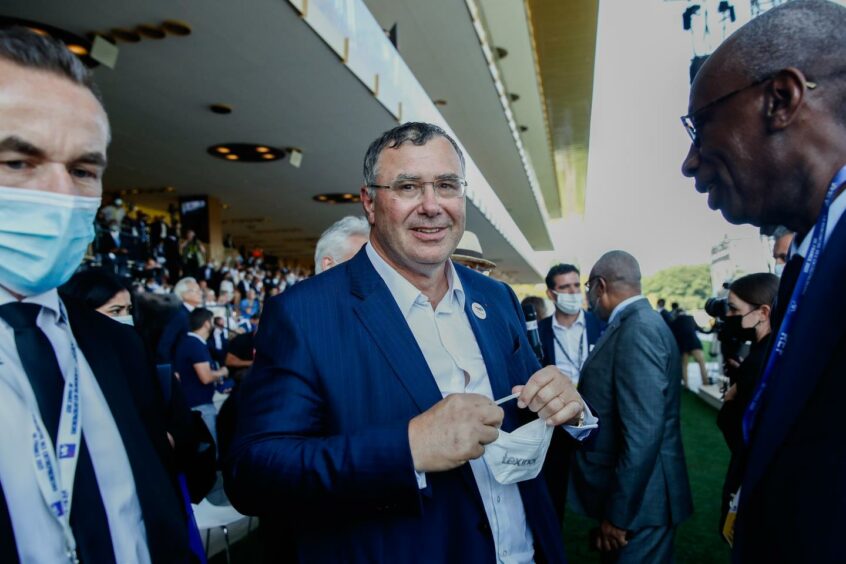 TotalEnergies has made a "significant" discovery at the Venus 1-X well, offshore Namibia.
The French company said the well had found 84 metres of net oil pay in a good quality Lower Cretaceous reservoir.
"This discovery offshore Namibia and the very promising initial results prove the potential of this play in the Orange Basin, on which TotalEnergies owns an important position both in Namibia and South Africa," said TotalEnergies vice president of exploration Kevin McLachlan.
One anonymous source described it as "largest discovery in sub-Saharan Africa ever".
There is speculation that the discovery may be in the region of 1.5-2 billion barrels.
"A comprehensive coring and logging programme has been completed. This will enable the preparation of appraisal operations designed to assess the commerciality of this discovery," McLachlan said.
Total has a 40% stake in Block 2913B and is the operator. QatarEnergy (QE) has a 30% stake, Impact Oil and Gas has 20% and state-owned Namcor has 10%.
Namcor described the discovery as "high-quality, light oil-bearing sandstone reservoir of Lower Cretaceous age".
Big Impact
Impact CEO Siraj Ahmed said the well had "exceeded our pre-drill expectations. As Namibia's second important discovery in recent weeks, it confirms the enormous potential of the Orange Basin as an emerging major hydrocarbon province".
Ahmed said the group would continue to collaborate "as we evaluate the next phase of the programme to unlock the full potential of this acreage".
Total spudded the well at the beginning of December. It does not appear to have been an easy process, with reports of difficult weather and technical challenges.
The licence covers 8,215 square km. The Maersk Voyager drillship worked on the well, in 3,000 metres of water depth. It reached a total depth of 6,296 metres.
Total did not provide a potential resource figure for the well. It would need to be high in order to justify development in such deepwater.
QE CEO and president Saad Sherida Al-Kaabi said the Venus find was "our second in Namibia in a month, and we are encouraged by the promising results of the discovery well".
Impact's exploration director Philip Birch said the Venus discovery "firmly places the deep-water Orange Basin as one of the world's most exciting areas for hydrocarbon exploration, and validates Impact's focus on the highly prospective Southern Africa Cretaceous oil and gas play, which extends from southern-most Namibia to the east coast of South Africa."
A video from Mike Cooper at Trove 1st Subsurface shed additional light on the Venus discovery.
Searcher Seismic's Neal Hodgson told Energy Voice that the Venus and Graff discoveries would have an impact throughout the Orange Basin, in Namibia and South Africa.
"Also – its another proof of the Aptian source rock play which will work on the conjugate margin of southern Brazil, Uruguay and northern Argentina," Hodgson said by email.
Graff appraisal
Shell recently drilled the Graff well in nearby Block 2913A. It declared a discovery at the beginning of February.
Valaris' DS-10 well worked on Shell's well. After Graff the rig moved off to Walvis Bay but has now returned to spud an appraisal. Valaris, in its recent fleet status report, said the rig would be in place in Namibia until April.
Gneiss Energy director Doug Rycroft compared Graff and Venus to buses. "[It] has taken a long time for the industry to make significant progress offshore Namibia and now we have two success stories within a matter of weeks".
Namibia has seen its share of misses in the past. "However, perseverance has paid off and the read through for those who have retained their acreage on a relatively low cost basis should reap the rewards for their patience.
"TotalEnergies and Shell, along with their respective joint venture partners, will now move quickly to appraise their finds – whilst there will be inevitable competition of the neighbouring discoveries – synergies on logistics, supply chain and development should be a huge positive seeing cost savings and improved economics across the board."
Updated at 11:20 am with QE's Al-Kaabi quote. 
Updated at 12:12 pm with video and comment from Searcher's Hodgson. 
Updated at 1:44 pm with comment from Gneiss' Rycroft. 
Recommended for you

Africa Oil rides expectations with drilling in Namibia, Nigeria