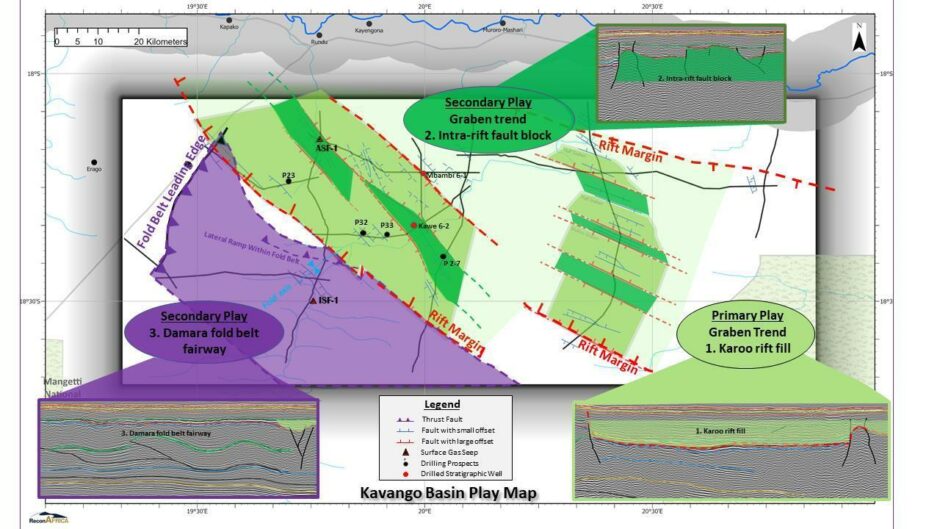 ReconAfrica has confirmed plans for at least three test wells this year, plus a sidetrack of the 6-2 well, beginning in the second quarter.
The company, in an update this morning, said these three wells would be the first into seismically defined traps. The intent is to prove commerciality of the petroleum system.
The Canadian explorer set out its plans, and some of its thinking, saying that its first two stratigraphic wells drilled in 2021 had established a "significant rift basin".
ReconAfrica based its analysis on the two wells and the first phase of 2D seismic. A second phase of 2D is under way. This is around 600 km.
ReconAfrica CEO Scot Evans said the work has "increased our confidence that the Kavango Basin is highly prospective for conventional oil and natural gas".
Starting the second phase of work, Evans thanked the Namibian people and local communities. Internally and externally, work is going ahead in decoding the Kavango Basin. The CEO described it as "one of the largest undeveloped onshore basins in the world".
Basin work
ReconAfrica has divided the Kavango into five sub-basins, with initial work focused on one of these.
The company said its interpretation had established three plays. The primary and secondary, Karoo Rift Fill and Intra Rift Fault Blocks, have light oil. The third, the Damara Fold Belt, is a new play with gas and condensate. It described the latter as "coherent, mappable and potentially large".
ReconAfrica's work has found five drillable prospects, which includes the sidetracking of the 6-2. It has also found another 18 leads, all in the first sub-basin.
It has established six potential reservoirs and four potential source rock intervals.
The initial focus will be an area named the Central Graben West (CGW). As seismic progresses though, this may change.
The company plans a third seismic phase to begin mid-2022. This will aim to move beyond establishing the regional context to actually providing prospect definition for drilling.
Recommended for you

Africa Oil rides expectations with drilling in Namibia, Nigeria