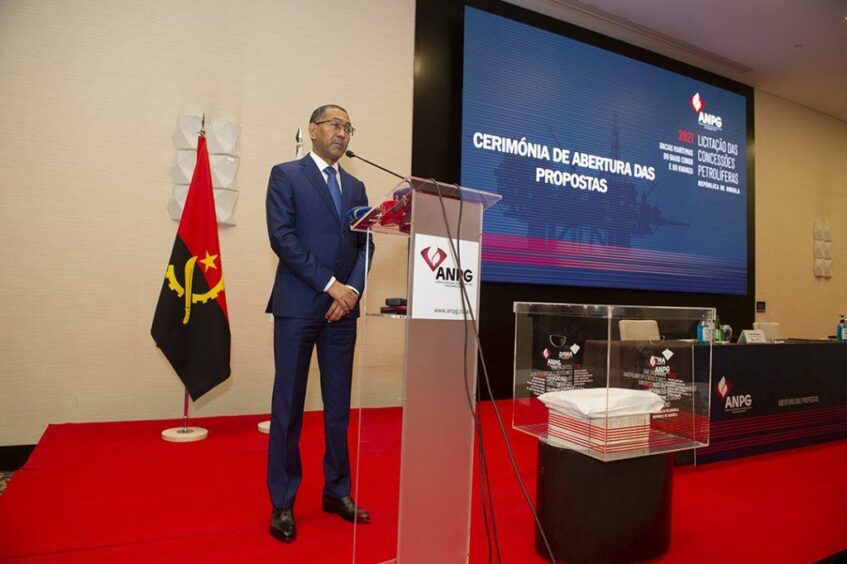 Eni, Equinor and TotalEnergies have submitted bids for two blocks in the Lower Congo Basin, ignoring more frontier areas in the Kwanza Basin.
Agência Nacional de Petróleo, Gás e Biocombustíveis (ANPG) launched the bid round in 2021. A ceremony was held in Luanda on April 5 for the opening of the bids.
Eni Angola submitted a bid to operate Block 31/21, while Equinor signed on as partner. Each company bid for a 50% stake, with each offering a $5 million bonus payment within 30 days of reaching first oil.
Block 31/21 is the relinquished areas around the original Block 31, where BP has developed a number of major projects. BP is combining its Angolan operations with Eni with the establishment of an independent operator, Azule Energy.
Total submitted a bid for Block 16/21. The French company wanted all 100%. It offered a bonus linked to the level of discovery. This started at $0.1 per barrel for a find of less than 200 million barrels, rising to $0.3 per barrel.
Block 16/21 is around the Chissonga discovery, which Maersk Oil found in 2009. Total acquired Maersk in 2018.
Minister of Mineral Resources, Oil and Gas Diamantino Azevedo attended the ceremony, as did Secretary of State for Oil and Gas José Barroso.
On offer
A number of blocks offered in the round remain available. In the Lower Congo, Blocks 32/21, 33/21 and 34/21 are still up for grabs. Meanwhile, Blocks 7/21, 8/21 and 9/21 in the Kwanza Basin are also available.
Block 32/21 may be of interest, given it surrounds the major Kaombo discoveries. Furthermore, with Block 33/21, it is in close proximity to Total's "golden" Block 17.
ANPG noted that interested companies could submit bids for these through direct offer, in line with Presidential Decree (PD) 249/21. This establishes a "permanent offer" regime.
ANPG head Paulino Jerónimo welcomed the interest from the three companies. The ANPG, he said, had achieved its objectives and the bidders had proven experience in the sector.
The round "shows us that we are on the right path and that we must commit ourselves more and more to boost our oil sector and its contribution to the national economy", Jerónimo said.
Minister Azevedo, in an opening speech, said the offering marked the resumption of bid rounds in Angola after a long pause. "It is something that, in time, will actually contribute to the dynamism of industry and the economy, since without investment there will be neither new discoveries nor increased production," he said.
The lack of bids for the Kwanza Basin blocks may be disappointing. Companies have made a handful of discoveries in the basin but it remains challenging.
Angola held a blockbuster bid round in 2011 offering acreage in the Kwanza, with signature bonuses totalling more than $1 billion. Despite the outlay, no company made a commercial discovery.
Recommended for you

Sonangol returns to Kwanza onshore after 27 years