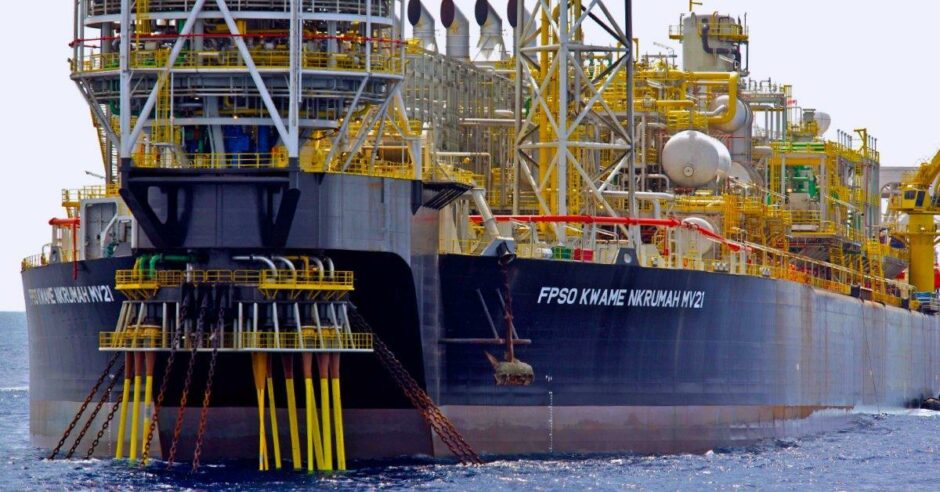 Kosmos Energy is generating free cash flow at unprecedented volumes, allowing it to pay down debt, and has been talking up LNG.
The US independent reported net production of around 72,600 barrels of oil equivalent per day in the first quarter of the year. With a realised price of $88.3 per boe, it generated around $220 million of free cash flow in the first quarter.
A major priority for the year is paying down debt, while capital expenditure is relatively high at $670mn. However, in 2023 Kosmos – and its shareholders – will reap the rewards.
Tortue Phase 1 and Jubilee Southeast will start up in the third quarter of 2023 and mid-2023 respectively. The Jubilee project will take the Ghanaian field to more than 100,000 bpd, but it is the Tortue plan that is critical to Kosmos' plans.
The company is "increasing our exposure to LNG at a time when value is rising", Kosmos CEO Andy Inglis said on the conference call. "As capex falls and free cash flow grows, there is the potential for meaningful returns" for shareholders.
Kosmos sees potential in Europe's hunt for gas, as an alternative to Russian flows. The invasion of Ukraine has served to exacerbate a market that was already tightening.
Wood Mackenzie has forecast LNG demand will "almost double by 2035", Inglis said. Energy demand is rising and underinvestment in supply has seen "prices respond accordingly".
The Tortue project is a project divided between Mauritania and Senegal.
It would take an LNG carrier around five or six days to reach the UK or Germany's new Wilhelmshaven facility. An LNG carrier from the US might take three times that.
With upstream costs of $2-3 per mmBtu, the Tortue project is competitive with hub prices in the US. Inglis also noted the lack of CO2 in the reservoir, giving it a "carbon advantage".
Project plans
The Tortue project ran into some difficulties as a result of COVID-19 and there is scope for more. The management team is keeping a close eye on the progress of the FPSO.
China's Cosco yard, close to Shanghai, is currently working on the vessel. Inglis noted there had been a shut down as a result of COVID but it is "now back and running". The company hopes sailaway of the vessel will occur by the end of the third quarter, taking 60-90 days to transit to Tortue.
Subsea installation at Tortue is starting this month and drilling has already begun. The floating LNG (FLNG) vessel is under construction in Singapore, where there is less COVID risk. "The FPSO is the item we're focused on."
Beyond the first phase of development, discussions are under way on a second phase at Tortue. Plans might start to gather pace by mid-year, with the launch of front-end engineering and design (FEED).
It could follow this with a third phase, in addition to developments at Yakaar-Teranga and BirAllah. The former is offshore Senegal, where there are discussions around providing gas for domestic baseload power. BirAllah, meanwhile, is off Mauritania where a smaller population makes a domestic plan less feasible.
The challenge around expansion is inflation, Inglis said.
"We have to be phenomenally disciplined when it comes to capex. In 2023, we are seeing inflation across the board," he said.
The deepwater rig market, for instance, has seen dayrates rise from around $200,000 to the mid $300,000. "The market is adequately supplied, but it is tightening. In a higher priced world you have to execute to a higher standard," Inglis said.
Recommended for you

BP drops Yakaar-Teranga, Kosmos takes over