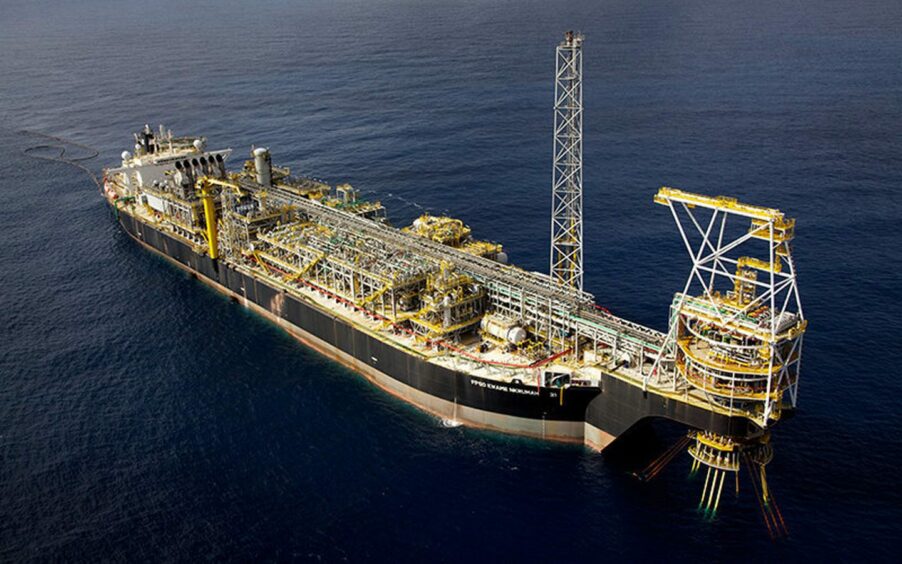 Tullow Oil expects to begin drilling wells on Jubilee South East this quarter, with the aim of boosting production beyond 100,000 barrels per day in 2025.
The company has not disclosed targets for Jubilee SE. However, based on its future production plans, it may come to account for around 25,000 barrels per day.
The company plans to start work on two wells on the project before the end of the year, it said. It will drill another two – one producer and one water injector – in the first half of 2023.
Tullow plans to bring these wells into production in 2023. They should add "material production" next year and beyond, it said.
The company awarded an integrated engineering, procurement, construction and installation (EPCI) contract to TechnipFMC for Jubilee SE in July. This covered the installation of all major subsea equipment.
Tullow has said the Jubilee SE plan will absorb 50% of spending from 2022 to 2025. The addition of Jubilee SE – and Jubilee North East – should boost company production above 100,000 bpd in 2025. The two Jubilee projects are running concurrently.
The Jubilee field produced 32,100 barrels per day to Tullow to the end of October. Gross production from the field was 84,500 bpd.
The company had made a takeover bid for Capricorn Energy earlier this year in the form of a merger. However, amid fierce criticism, Capricorn dumped Tullow and is now working on a deal with NewMed Energy.
Ntomme problems
Tullow CEO Rahul Dhir said the company was delivering its targets, although he did note a disappointment with two wells on the Ntomme field, in Ghana.
A first well, Nt10-P, found good reservoir sands but these held only water. The second well, Nt11-P, was targeting a different objective and found poorer reservoirs. The company said this second well was not commercial.
These wells were supposed to form the basis of the TEN Enhancement Project. Tullow said it would evaluate the wells in order to refine its future drilling plans.
Speaking in September, Dhir said the TEN Enhancement Project was one option for the company to consider a final investment decision (FID). Given the poor Ntomme results, this now seems less likely.
Overall producing assets are performing well, Dhir said, in line with expectations. The company has narrowed its full year production guidance to 61,000-62,000 boepd.
"We continue to strengthen our balance sheet, with free cash flow guidance for 2022 increased to $250 million and gearing on track to be less than 1.5 times by the end of the year," Dhir said.
Panmure Gordon's Ashley Kelty noted that lower capital expenditure this year had led to higher free cash flow, of $250 million for the year.
Some concerns
Tullow has postponed its capital markets day, it said. The company had planned to hold this on December 12 but said it would defer this until 2023. Tullow attributed this to its "strategic and operational initiatives" being ongoing and "are expected to evolve throughout the coming months".
Kelty expressed some concerns around the company's plans.
"Debt remains high and clumsy failed takeover attempt for Capricorn [Energy] continues to weigh heavily and investors will be anxious to hear what the outlook and strategy will be," Kelty said.
While Tullow is largely focused on Ghana, and in particular on Jubilee, it is working on an exploration well plan in Cote d'Ivoire. Working with state-owned Petroci, the company intends to drill a well on the CI-524 licence, it said.
Tullow did not disclose a schedule for drilling. The company said it hoped to use its experience of the Tano Basin, with the licence close to Tullow's existing fields.
Updated at 3:06 pm with additional details.
Recommended for you

Tullow cuts production hopes, boosts bond buybacks