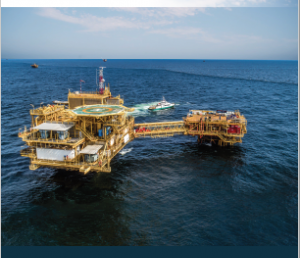 TotalEnergies EP Gabon has extended its Baudroie-Mérou licence in Gabon.
A statement from the majority owned Total subsidiary said it had reached a new exploration and production-sharing agreement (CEPP). The Baudroie-Mérou Marine G5-143 licence will run until 2047, the company said.
"The signing of these agreements confirms our company's desire to strengthen its partnership with the Gabonese republic and to pursue the development of its activities in Gabon," said Henri-Max Ndong-Nzue, the head of the Gabonese unit.
"We remain fully committed as an energy producer in Gabon. We continue our investments to reduce our greenhouse gas emissions by promoting associated gas in particular and we continue to implement actions to support our production."
The company also signed an agreement changing certain items in its Convention of Establishment, which will run until 2042.
Baudroie-Mérou covers two blocks and is around 10 km from the Torpille field.
Total Gabon increased its stake in the Baudroie-Merou licence in 2017, pre-empting a sale from Mitsubishi Petroleum. The company at the time said this was part of its refocusing on strategic offshore assets and capturing future upside.
Total owns a 58.28% stake in the Gabonese company. The country owns 25%, while the public holds the last 16.72%.
Total has sold off various mature assets in Gabon, but has committed to retaining Anguille-Mandji and Torpille-Baudroie-Mérou.
The company produced 12,200 barrels per day of oil in the second quarter. An accident at the Cap Lopez terminal, operated by Perenco, led to the suspension of exports for 19 days in May. Total Gabon sold the terminal to Perenco in 2021.
Recommended for you

Shell, Total appraisals under way off Namibia