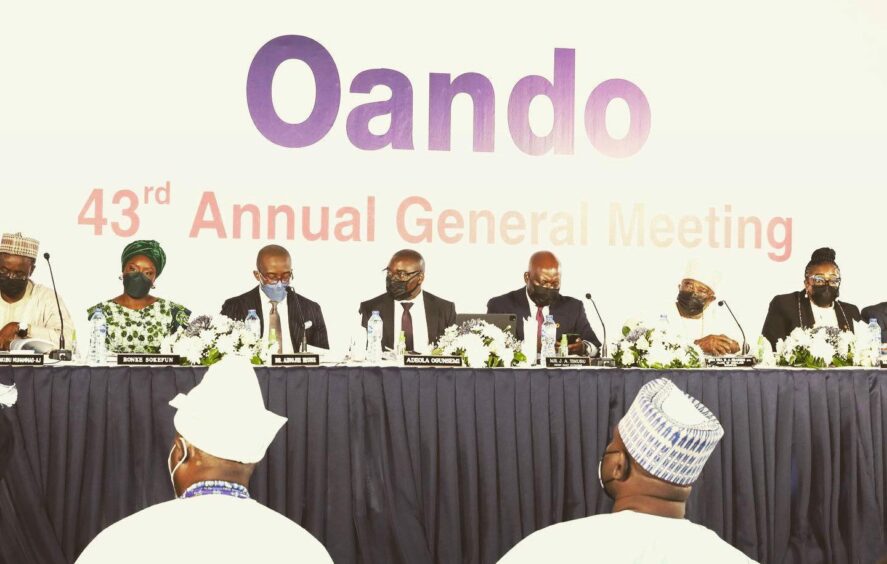 Nigeria's Oando Group has finally published its 2020 and 2021 results, although the latter remain unaudited.
Oando has struggled to present its results in a timely fashion, but is getting slightly faster. It reported its audited 2019 and unaudited 2020 results in June 2022.
In 2021, the company's upstream production sank 40%. In 2020, it reported output of 44,550 barrels of oil equivalent per day, which dropped to 26,775 boepd in 2021. Oil production fell from 15,912 bpd to 8,849 bpd.
However, in the downstream, traded oil volumes increases 8% in 2021 and refined products were up 39%.
Net profit increased to 34.7 billion naira ($75.38 million), versus a loss in 2020 of 140.7bn naira ($305.7mn). Group borrowing was up 10%, reaching 460.8bn naira ($1bn).
Oando CEO Wale Tinubu said 2021 saw contrasting themes. "Buoyant oil prices [were] tempered by an increasingly challenging local operating environment. Bullish oil prices throughout the year saw us record a 105% increase in average realized oil sale price whilst a surge in militancy and sabotage across the Niger Delta resulted in a 40% decline in average hydrocarbon production compared to 2020."
Production suffered at OML 60-63 the most, with a decline of 42% in 2021. OML 56 was down 23% and OML 13 just 1%.
While Oando has not provided direct insight into its 2022 operations, theft is likely to be a major concern. The company reported that it and other producers in the Kwale cluster had seen as much as an 80% reduction in production.
Spending and loans
Capital expenditure was down for 2021. Oando spent $63.4mn in the year, down from $83mn in 2020. Most of the spending in 2021, at $59.2mn, was in OML 60-63.
In January, Oando said it hoped to provide its audited 2021 results in May and its audited 2022 results in August this year.
One of Oando's challenges has been fending off suits from various shareholders. In August 2021, it managed to reach a deal where it would help loan money to Whitmore Asset Management, linked to its CEO Tinubu, to pay out $550mn to Gabriele Volpi's Ansbury Investments.
Oando borrowed the cash from Afreximbank and advanced this to Whitmore. The oil company will charge Tinubu's company 6% per year with a 10-year moratorium on the principal.
The Oando CEO is the nephew of recently Bola Tinubu, who won the race for the presidency in February.
1/ Happy Birthday H.E. @officialABAT, an inspirational leader and President-elect! Your selfless dedication to improving the lives of others, most especially Nigerians, is exemplary.
As we celebrate another year of your remarkable accomplishments, may Allah (SWT) grant you… pic.twitter.com/BmqWZTcl76

— Wale Tinubu CON (@AdewaleTinubu) March 29, 2023
Recommended for you

Pirates see better risk-reward in Nigeria's oil theft industry