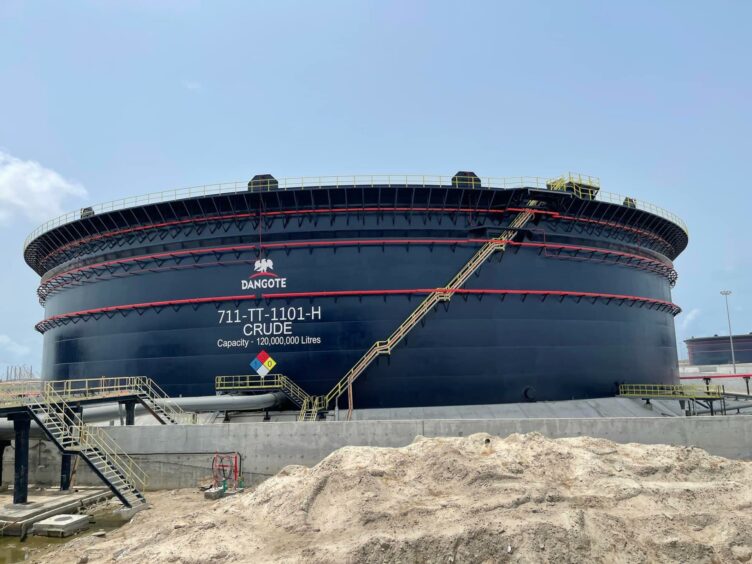 President Bola Tinubu has been in power for just over 100 days. The scale of the challenge in Nigeria's energy industry is becoming increasingly apparent.
The government is keen to boost production, but companies – particularly international majors – have been hesitant to follow through on the big plans in the offshore. These are crucial, if Nigeria is to achieve its production growth plans.
Westwood Global Energy recently forecast Nigeria would reach 1.9 million barrels per day in 2030, falling short of its aspirations. Including near-term offshore developments, Westwood sees the country reaching 2.6mn boepd by 2030.
Michela Francisco, Westwood analyst onshore energy services, agreed to answer some questions on the country's future.
What is holding back Nigeria? Is financing available for new projects?
The biggest challenge in the Nigerian oil and gas (O&G) industry is the lack of investment, which dates back to the oil price crash of 2014. For International Energy Companies (IEC), the lack of capital to fund new projects has not been the main reason for subdued investment. Albeit their divestment from onshore and shallow water hydrocarbon assets, they are still heavily invested in deepwater projects in Nigeria. Rather, IEC's interest has failed to regain pre-2014 levels as they redirect capital to prolific basins, such as offshore Guyana and frontier basins, such as Namibia. IECs also have large, multi-year projects with significant costs, making investment risky during periods of low oil prices, especially when coupled with Nigeria's fiscal and business environment before the Petroleum Industry Act (PIA).
In light of the country's push to develop its gas reserves, financing has been readily available for LNG projects in Nigeria. In 2020, a US$3 billion multi-sourced corporate loan was approved for Nigeria LNG (NLNG) to construct the seventh LNG train for the ongoing capacity expansion at the Bonny Island LNG project. Likewise, in June 2023, Afreximbank signed a Project Preparation Facility Agreement with UTM Offshore, guaranteeing funding to develop, design, and construct an FLNG facility. This followed the Memorandum of Understanding (MOU) signed in 2020 affirming Afreximbank's commitment to raise US$5bn for the UTM Offshore LNG project.
Outside of LNG, since 2021, the NNPC has also secured royalty-backed loans from Afreximbank valued at approximately US$5 billion to fund upstream projects and drilling campaigns and to resolve other bottlenecks in the sector. This indicates that financing and infrastructural problems in the Nigerian O&G sector could be less of a problem in the coming years.
Nonetheless, funding is still a problem for projects onshore and in shallow waters. Nigeria has struggled to attract and retain IEC investments in these terrains primarily because of oil theft and security risk, which has prompted a rise in interest from domestic oil companies (DOC) in acquiring such assets.
However, DOCs are challenged with difficulty in raising capital due to their dependence on local banks, which are generally risk-averse to lending to the industry, especially when oil prices slip. This hurdle, along with oil thefts, has put a significant constraint on investment in onshore and shallow waters in Nigeria.
What impact will the PIA have on Nigeria's future production?
The PIA has enabled more fiscal attractiveness in the sector, especially for development of the country's large gas reserves. The bill also includes a clause that requires the NNPC to reinvest 30% of its profits in the soon-to-be-introduced Frontier Exploration Fund, a fund expected to support exploration and production (E&P) activity in marginal shallow and onshore fields where most DOCs operate.
Therefore, an uptick in exploratory drilling and production could be registered by DOCs once the funds, currently estimated by the NNPC to be approximately US$400 million per year, are made available to support activities. Ultimately, the PIA is expected to support investment in the O&G sector, promote gas investment and exploration, and through improved fiscal terms, revitalise and attract IEC's interests in deepwater activities, thus potentially prompting more exploration and appraisal drilling (E&A) and rig contracting in the industry.
Are there any big-ticket fields you have your eye on? Owowo, Preowei, Bonga SW?
Currently, there are a few major offshore oil developments on the horizon in Nigeria. Phase I of TotalEnergies' Preowei development is anticipated to advance, with front-end engineering and design (FEED) studies ongoing involving a development concept that includes eight production wells tied back to the Egina FPSO, located approximately 28 km away. If there are no further delays, the project is expected to be sanctioned in 2024 and commence commercial production in 2026.
Shell-operated Bonga North project is another near-term project progressing, with three active engineering, procurement and construction (EPC) tenders, with formal contract awards expected in 2024 and field startup anticipated in 2027. There is also Shell's HI gas development, which is currently scheduled to come onstream before the end of the decade.
According to stated development plans, Westwood anticipates first oil from the Bonga Southwest field post-2030. This project has had its development concept revised a few times and has also experienced significant delays due to escalating development costs. It is pertinent to state that the abovementioned projects are highly susceptible to further delays, especially if oil prices slip.
What sort of growth do you expect from Nigeria's local companies? How do you see them growing on- and offshore?
In the wake of IECs' divestment from onshore and shallow water O&G assets, DOCs have increased interest in acquiring these assets. An example is Seplat Energy, which announced in 2022 plans to acquire ExxonMobil's shallow water assets for US$1.2bn.
Likewise, during the 2020 marginal fields bid, 24 DOCs were awarded licences to operate 57 marginal O&G fields. Thus, Westwood anticipates DOCs to increase their already dominant position in onshore and swamp areas, though deepwater activity will remain IEC-dominated.
It is important to underscore that growth in E&P from DOC is contingent on their ability to acquire financing for projects and mitigation of oil theft, which is a significant burden on their operations since most vandalism occurs in onshore and shallow water oil fields.
Given the talk of Nigeria as a gas province, how might this shape up? Is there scope for further LNG expansion, or is it going to be domestically focused?
The future of Nigeria as a gas province is supported by the PIA highlighting fiscal incentives for gas investors, the government's introduction of anti-flaring policies aiming to redirect gas to domestic consumption and commitment to LNG capacity expansion. Nigeria currently has 22 million tonnes per year of LNG export capacity from the Bonny Island LNG project, which is undergoing expansion, where a seventh LNG processing train is being added to boost LNG capacity to 30mn tpy by 2024.
Outside of this, Golar LNG and the NNPC signed new terms for the potential construction and deployment of FLNG vessels to be utilised on varying gas fields offshore Nigeria. Furthermore, in July 2023, the NNPC and UTM Offshores also signed an agreement to construct an FLNG unit with a 1.5mn tpy capacity.
Overall, significant developments have been registered in LNG in Nigeria, which could help meet domestic and European gas demand.
Despite these positive efforts, gas capacity expansion is still constrained by pipeline vandalism, especially domestically. A recent example of this is TotalEnergies' declaration of force majeure on the Northern Option Pipeline (NOPL) in early 2022, which supplies gas to the Alaoji Power Plant and more recently, in August 2023, Shell's Trans Niger oil pipeline leak, which is being investigated to determine if it was rooted in vandalism.
These highlight the need to focus on improving pipeline infrastructure and mitigation of vandalism to attract further local domestic gas investment. In the international sphere, deploying FLNG units and advancing pipeline projects such as the long-awaited Trans-Saharan gas pipeline, which could connect Nigerian gas fields to Europe, is crucial to boosting gas exports in Nigeria.
Recommended for you

M&A on the rise, Bracewell finds, despite financing squeeze