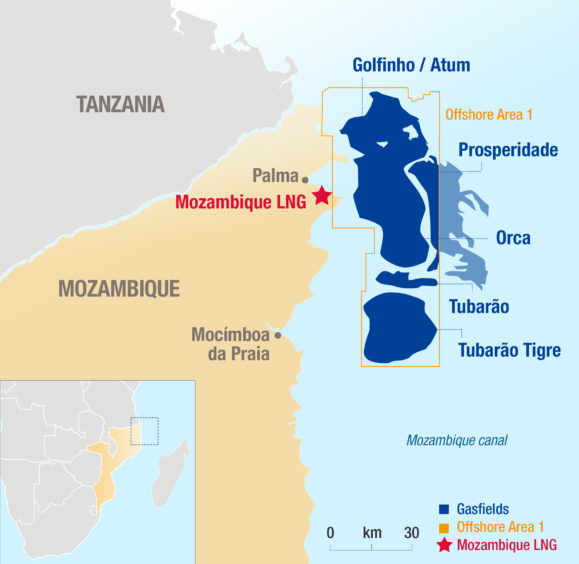 Total intends to resume work at the Mozambique LNG site after the government has provided assurances of improved security.
The French company demobilised workers following various security incidents in December 2020. These culminated in an attack at the edge of the Afungi LNG Park, home of the two train 13.1 million tonne per year project.
Total said it had been working with the Mozambique government on an action plan. This has the aim of "reinforcing, in a sustained manner, the security of the Afungi site and of the surrounding area and neighbouring villages".
As such, the Mozambique government has established a 25 km perimeter around the Mozambique LNG site, defining this as a "special security area".
It has created a roadmap to improve security. This includes reinforcing security infrastructure and strengthening public security forces, Total said.
As a result, the company has begun a gradual remobilisation of the project workforce and resumption of construction. Community development programmes have also resumed.
Total and Mozambique signed a memorandum of understanding (MoU) in July 2020. Under this agreement, the Ministry of Defence and the Interior provides security forces for the area, including the special security area.
Mozambique has given commitments that its forces working to secure Mozambique LNG will act according to the Voluntary Principles on Security and Human Rights (VPSHR) and international human rights standards, Total said.
Mozambique LNG does not use any armed security providers itself, it said.
Amnesty International has raised concerns in a recent report around war crimes in the northern Cabo Delgado Province.
Dyck Advisory Group (DAG) appears to have lost its contract for work in Mozambique.
Financing
Total also noted that it had satisfied all conditions around its project financing, agreed in July 2020. It will take a first drawdown of cash at the beginning of this April.
The French company said it remained committed to delivering a first LNG cargo from the Mozambique project in 2024. IHS Markit suggested in February that insecurity at the site may delay the start by a year.
Friends of the Earth in the UK is trying to block UK Export Finance from supporting Mozambique LNG.
ABB announced last week it had won work on electrical systems for Mozambique LNG. This came under a deal from the CCS JV, made up of Saipem, McDermott and Chiyoda.
Recommended for you

Choosing fast FLNG to cash in on sky-high gas prices