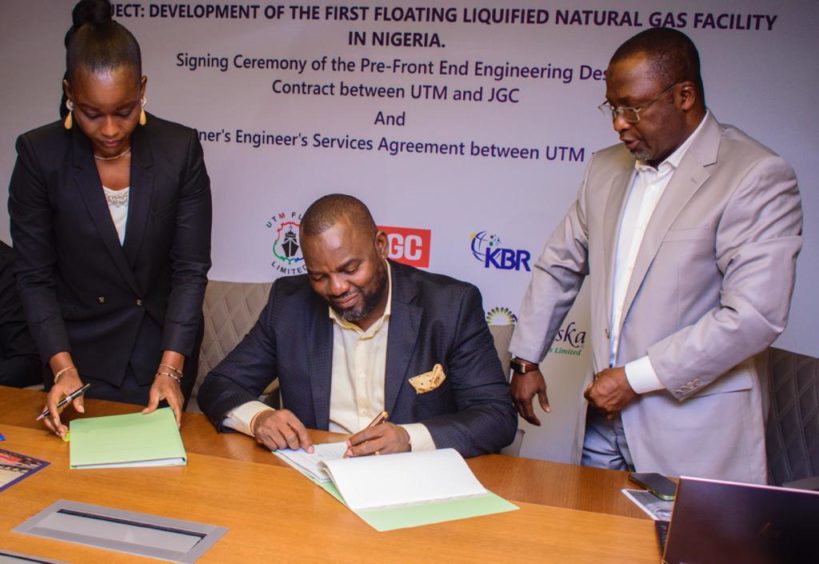 Nigeria's UTM Offshore has signed up Japan's JGC Corp. and KBR to study its proposed floating LNG plan.
JGC will carry out pre-front end engineering and design (pre-FEED) on the plan. KBR, acting as owner's engineer, will review JGC's pre-FEED work.
A virtual signing ceremony was held this morning.
The Nigerian company has said it hopes to install a 1.2 million tonne per year facility, on the Yoho field, in OML 140.
The FLNG unit should be on stream in 2025. It will produce the LNG from 176 million cubic feet per day of gas.
"UTM Offshore's FLNG project is the most logical continuation for our group as Nigeria embarks on a new era of gas monetisation and local content development," said UTM Group's CEO Julius Rone.
"Nigerian companies have built the necessary capabilities to execute such ambitious projects and we intend to open up a whole new segment of the industry that brings positive environmental benefits to the country while continuing to build local capacities across the value-chain."
JGC noted the award on May 13. The Japanese company said it would be "the first FLNG facility in Nigeria and is a milestone project".
JGC is also handling engineering, procurement and construction (EPC) work for an FLNG plan with Petronas in Malaysia and for Eni in Mozambique.
Hitches
The Department of Petroleum Resources (DPR) said it would support "the hitch free completion" of the FLNG unit.
The agency issued a licence to establish the first FLNG plant in February this year. DPR head Sarki Auwalu issued the licence to UTM's Rone.
The Nigerian government agency highlighted the importance of local content in its award of the licence to UTM.
The DPR authorisation is valid for 24 months. Some reports in the Nigerian press have said the company aims to approve the FLNG plant in 2022.
ExxonMobil's Mobil Producing Nigeria (MPN) operates the Yoho field, with a 40% stake. Nigerian National Petroleum Corp. (NNPC) holds the remaining 60%.
UTM has not indicated whether it would seek a new liquefaction unit or use an existing unit.
Lawyers acting for UTM noted the challenges of securing the DPR approval, in February.
Templars' Dayo Okusami said it had been "hard work securing the first FLNG licence to be issued in Nigeria and the hard work will continue until completion of the project which will contribute to the actualization of the zero flare policy of the Nigerian Government as well as increasing Nigeria's LNG production capacity".
MPN began producing at Yoho in late 2002. The company reinjected gas in order to maximise oil recovery. Exxon and UTM are working on a term sheet for the FLNG plan.
Updated at 3:26 pm with Julius Rone comment and target commissioning date. 
Updated on May 13 at 8:09 am with JGC comment. 
Recommended for you

Nigeria to struggle in growth plans, Westwood warns