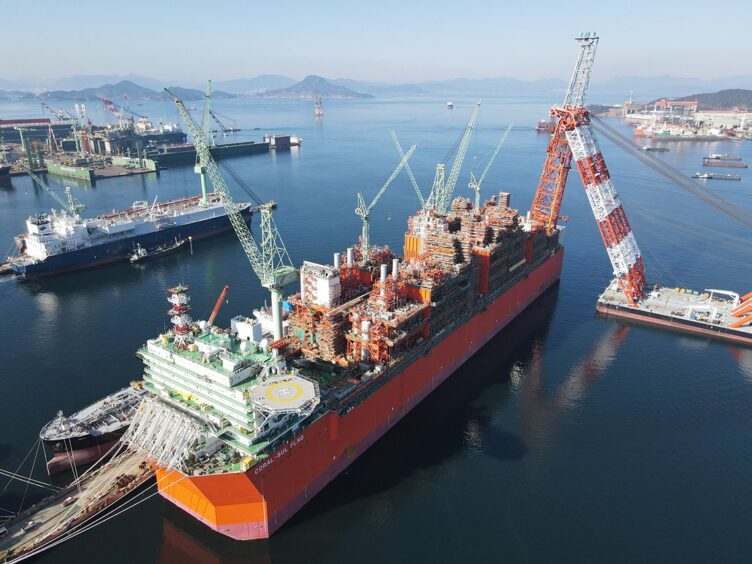 The Coral Sul floating LNG (FLNG) vessel left Samsung Heavy Industries (SHI) shipyard this morning on its way to Mozambique.
Information from Marine Traffic report it left its South Korean port at 7:32 local time and is heading southeast towards Mozambique. The ship tracking website estimate it is due to arrive on site on January 5, 2022.
Eni held a naming and sail away ceremony on November 15. Mozambique President Filipe Nyusi attended, as did Korean President Moon Jae-in.
The Italian company said Coral Sul FLNG would start producing in the second half of 2022.
It reached a final investment decision (FID) on the gas project in 2017. FLNG fabrication and construction started in 2018, with work on budget and on time.
At the same time as construction of the FLNG vessel was under way, Eni was carrying out a drilling programme in the Rovuma Basin. It completed this in early November.
"The Coral Sul FLNG is a world-class feat of engineering, construction know-how and technology, suited to kick-off the development of Mozambique's world-class resources," said Eni director of development and operations Stefano Maione.
"The project fits integrally with and within the Eni's energy transition strategy, as we move towards a decarbonised energy future, in which gas is playing an essential and transitional role."
Competitiveness
Eni said designers had optimised Coral Sul FLNG for energy efficiency. As a result, it will zero routine flaring, thermal efficient aero-derivative gas turbines and waste heat recovery systems.
The Italian company's CEO Claudio Descalzi was in Mozambique earlier this month. Eni is working on forestry plans in the country, which could supply carbon credits to make Coral Sul carbon neutral.
The vessel is 432 metres long and 66 metres wide. It weighs 220,000 tonnes and can accommodate 350 people in its eight storey living quarter module. To moor the vessel in place it will require 20 mooring lines, weighing 9,000 tonnes, in water depths of around 2,000 metres.
It will be able to produce 3.4 million tonnes per year of LNG. Gas for the FLNG unit will come from the Coral reservoir, tapping a 450 billion cubic metre reserve.
BP is the sole offtaker of LNG from the project. BP is developing its own FLNG project in Africa, offshore Senegal and Mauritania, but has opted for a shallower water site for liquefaction.
Eni leads the FLNG work in Area 4, while ExxonMobil works on the onshore LNG plans.
There has been speculation that Exxon may not press ahead with its Mozambique plans. However, Exxon's head of upstream Liam Mallon visited Maputo in early November and gave assurances to the Mozambique government.
Recommended for you

ExxonMobil expects Mozambique LNG investment decision in 2025