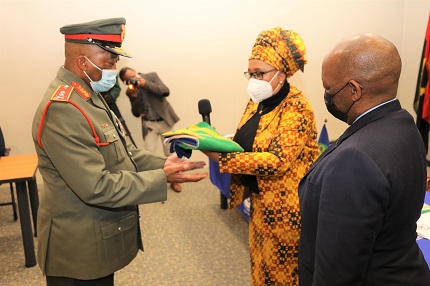 The military intervention in northern Mozambique has seen some successes, but with the recent death of a South African soldier and talk of the insurgency shifting, it is far from over.
Mozambique has made efforts to improve security in the eastern districts of Cabo Delgado, in order to allow the major LNG projects to get back on track.
TotalEnergies announced force majeure on its Mozambique LNG project in April following a major attack on a nearby town. ExxonMobil has continued talking about its proposed Rovuma LNG project, but has pushed back the final investment decision (FID).
In the near term, the most notable development will be the arrival of the Coral Sul floating LNG (FLNG) project in Mozambique. The vessel is currently north of Reunion and Mauritius, on its way to Area 4 off Mozambique. It is due to arrive on January 5.
Progress
India is providing two fast interceptor vessels to Mozambique. An Indian naval vessel visited Maputo on December 25, providing 500 tonnes of food aid and defence equipment for the local armed forces.
Mozambique stepped up naval patrols around Cabo Delgado, a spokesman was quoted by local reports as saying earlier this month. Captain Carlos Cossa noted a deterrent impact on travel by terrorists and in improving security for Area 4.
The eastern Palma district is returning to normality, the Armed Conflict Location & Event Data Project (ACLED) said. Rwandan troops are enforcing security, it noted, and "Palma appears to be once again open for business."
Mozambique has the aim of creating a secure enclave for natural gas projects, ACLED said. The NGO noted the progress was "at the mercy" of the Rwandan support. "With so much unknown about the arrangements between the two countries, it remains to be seen how long this period of relative prosperity will last in Palma."
Extension despite losses
Southern African Development Community (SADC) troops arrived in Mozambique in July, at the same time as Rwandan forces.
South Africa's armed forces reported on December 20 that a soldier had been killed in an ambush east of Chai village. The insurgents attacked forcing South African troops, shooting one dead. They also killed a number of Mozambique soldiers in the attack.
The South African National Defence Force recovered the body and repatriated it on December 23.
Eight countries have contributed troops to the SADC force: Angola, Botswana, Congo Kinshasa, Lesotho, Malawi, South Africa, Tanzania and Zambia.
The SADC mission to Mozambique had been due to end in mid-January. SADC is extending the mission, South Africa Minister of International Relations and Cooperation Naledi Pandor has said.
SADC will continue supporting Mozambique "in achieving peace and security in some parts of the central and northern Cabo Delgado province", Pandor said.
On the move
As the combination of local and foreign forces focus on Cabo Delgado, there are signs that the militancy is moving.
Insurgents have carried out attacks in Niassa Province, to the east of Cabo Deglado, triggering a displacement of local people. Furthermore, ACLED's Cabo Ligado reported a night attack in Tanzania's Mtwara region, just over the Ruvuma River. The attackers killed four civilians, ACLED said, but Tanzanian military forces drove them away.
Mozambique's forces have not entirely won in Cabo Delgado either. The insurgency released pictures this week appearing to show materiel they had seized from South African Special Forces in Macomia.
#Mozambique: ISCA capture from claimed SADC (Unsure if meaning South African Special Forces) after an attack a few days ago in #Macomia; large quantities of 40x46SR HE(DP) grenades captured, along with 60mm mortar bomb and much ammo and comms kit pic.twitter.com/8po5WyD9GR

— Cᴀʟɪʙʀᴇ Oʙsᴄᴜʀᴀ ❄ (@CalibreObscura) December 25, 2021
Total may return to work at Mozambique LNG in mid-2022, while Eni's Coral Sul FLNG should also start up in the second half of the year. Pressure will increase on the Mozambique government to continue its security operations, but the prospects of sustained support from SADC and Rwanda are unclear.
Recommended for you

Total accused of manslaughter over Mozambique terrorist attack