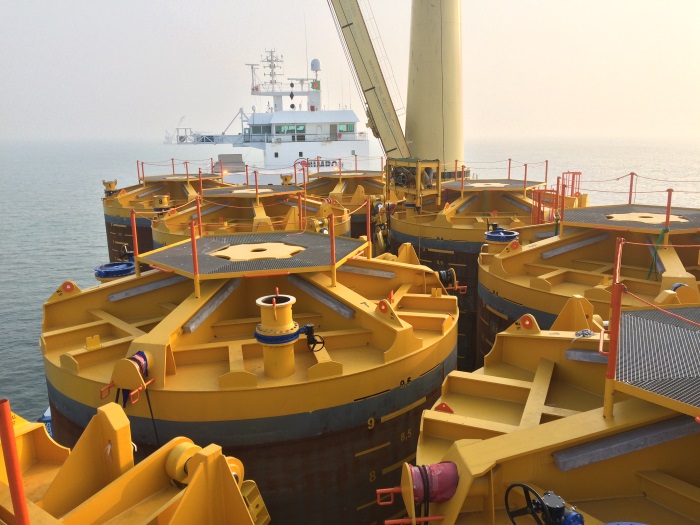 Equatorial Guinea has been focusing on expanding its gas production, as oil declines, with Marathon Oil making a significant show of support last week.
The US company set out plans to begin producing gas from its offshore Aseng field, via the Punta Europa facilities. It signed a heads of agreement (HoA) with Equatorial Guinea and Chevron's Noble Energy. The agreement focuses on the gas mega hub plan.
"We are excited about this critical milestone in the ongoing development of Punta Europa as a world-class hub for the monetisation of local and regional natural gas," said Marathon chairman, president and CEO Lee Tillman.
The executive said the announcement built on the company's more than 20 years of working with Equatorial Guinea. The plan sees it "leveraging and extending" local gas infrastructure, including the Equatorial Guinea LNG facility "into the next decade".
Hopped up hub
The HoA covers a second and third phase for the mega hub.
The first phase was the linking up of the Alen field to Punta Europa via a 70 km pipeline. Alen production goes to the onshore LPG plant and LNG facility, in which Marathon has 52% and 56% respectively.
The second phase will involve gas from the offshore Alba field. Marathon has a 63% stake in the Alba licence. Gas from the field already goes to the LPG and LNG plants.
While LNG prices have soared in recent years, Equatorial Guinea and the facility owners have not seen the upside of this. The plant sells LNG under a fixed Henry Hub-linked contract to Shell. This fixed-price free on board (FOB) deal expires at the end of 2023.
As a result, Marathon will increase its ability to sell gas at global prices. The company said it expected this would improve its local "earnings and cash flow significantly".
The third phase of the hub plan involves processing volumes from the Aseng field. Aseng began producing oil in 2011, with gas being reinjected.
"I think we'll see quick progress around Aseng. The field is not far from Alen, it's less than 15 km, and Aseng's existing wells should be easily converted," London Stock Exchange Group LNG analyst Olumide Ajayi said.
The EG LNG plant can produce 3.7 million tonnes per year. According to the International Gas Union, it produced 2.72mn tpy in 2021, up from 2.61mn tpy in 2020.
Other shareholders in the facility include locally owned Sonagas, in addition to Japan's Mitsui and Marubeni.
Cross-border
Marathon also noted the recent bilateral treaty on cross-border oil and gas plans, signed by Equatorial Guinea and Cameroon. The US company said this provided more opportunities to expand the gas hub "through fast-track monetization of cross-border wet gas fields".
The African Energy Chamber (AEC), commenting on the cross-border deal, said it might see a way forwards on the development of Chevron's Yoyo field in Cameroon and Yolanda in Equatorial Guinea. The AEC said the two countries would now work on a unitisation agreement for the split field, in addition to other fields.
Chevron could choose to develop the cross-border field with a tieback to the Aseng FPSO.
The chamber went on to reference Cameroon's Etinde field, along with Equatorial Guinea's Carmen and Diega fields. Companies could link all these resources up to the gas hub, the AEC said.
Etinde has been on hold for a number of years. Most recently, New Age, the operator, struck a deal to sell out to Perenco. Project partner Bowleven has speculated Perenco may complete the deal in June this year, with a final investment decision (FID) coming in late 2024.
The partners have raised the possibility of exporting via Punta Europa in the past.
Equatorial Guinea's Gabriel Mbaga Obiang Lima, speaking in January when still the energy minister, said there were two fields in focus for the gas hub.
"This is a deal with Marathon and Chevron who will process more gas and produce more LNG. Our objective is gas, it's going very well. We will make a lot of money at the end of this year and into next year," he said.
Ajayi said it was notable that the Marathon deal had singled out Cameroon for a potential cross-border development. "The two countries are well suited for a proper partnership. As a result, they could move at a quick pace."
Cameroon was the first country in Africa to start up a floating LNG (FLNG) project and are aware of global demand for the commodity, he continued.
Aggregation point
Marathon has talked of the commercial attractiveness before of Equatorial Guinea. In its fourth quarter results in February, Tillman said the company's business had generated more than $600 million of income in 2022. This is "more than double" the guidance.
As of January 1, 2024, LNG produced from the Alba field "will be sold into the global LNG market, which is expected to drive a significant financial uplift for our company given the material arbitrage between Henry Hub and global LNG pricing".
Tillman said that, based on the forward curve, this change would see Marathon earn around $500mn in EBITDA more in 2024 than in 2023. Should Europe's TTF reach $40 per mmBtu, the increase would be more than $1 billion.
The executive went on to say facilities at Punta Europa were at "a natural aggregation point to monetize both indigenous EG gas as well as discovered undeveloped cross-border opportunities".
Analyst Ajayi noted that the difference between what the country was receiving and the price Shell had been selling LNG for had vexed Equatorial Guinea.
"Marathon will be exposed to global pricing in its LNG sales," Ajayi said. "I wouldn't be surprised if Marathon sold its LNG via a trading house, Glencore is already in the Alen field and receives equity cargoes in line with its share." Chevron might also provide a trading role for the LNG cargoes, he said.
Updated at 7:46 pm to correct Ajayi quote. 
Recommended for you

Exxon, Chevron dust off West Africa plans