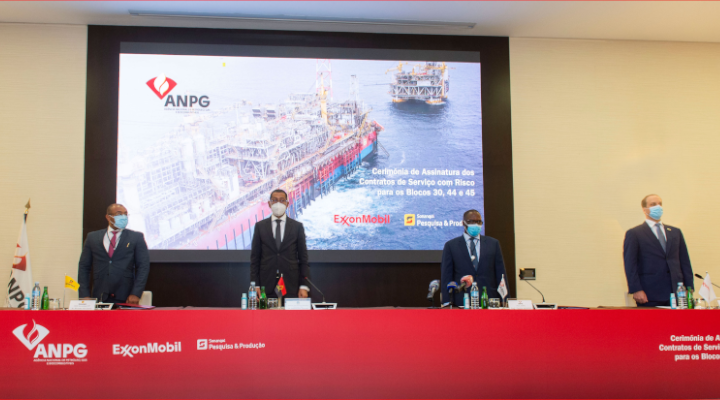 ExxonMobil has signed three risk service agreements (RSAs) with Angola for work in the Namibe Basin.
Agência Nacional de Petróleo, Gás e Biocombustíveis (ANPG) announced the deal. The US super major signed up for work on Blocks 30, 44 and 45.
These areas are from 50 to 100 km offshore, in water depths ranging from 1,500 to more than 3,000 metres. The area covered by the blocks is around 17,800 square km. Exxon will have 60% stakes and serve as operator, while Sonangol P&P will have the remaining 40%.
"We will work with the Angolan government and ANPG to identify the border areas with the best resource potential, applying our proven experience and our cutting-edge technology," said ExxonMobil's general manager in Angola Andre Kostelnik.
ANPG said exploration had previously focused on the Congo and Kwanza basins. The agency's chairman Paulino Jerónimo welcomed the entry of the US company.
"The success of the work carried out in Angola by international operators, many of whom already have a consolidated presence in the country, is an extremely important factor for the development and credibility of the Angolan oil sector," Jerónimo said.
Sonangol's chairman Sebastião Gaspar Martins said that while the area has so far not been explored, there are good indications of hydrocarbons in the region. "Being able to participate in this challenging project, we are excited and launch challenges that we will surely be up to," he said.
Exxon and Sonangol signed a memorandum of understanding (MoU) on the Namibe Basin in December 2018. According to the Lusa news agency, Exxon has already invested $50 million on work in the Namibe.
The US company has also moved into northern Namibia, in the shared Namibe Basin. In April 2019, it signed agreements on four Namibian blocks, covering 28,000 square km.
Recommended for you

Total plans out seventh FPSO for Angola