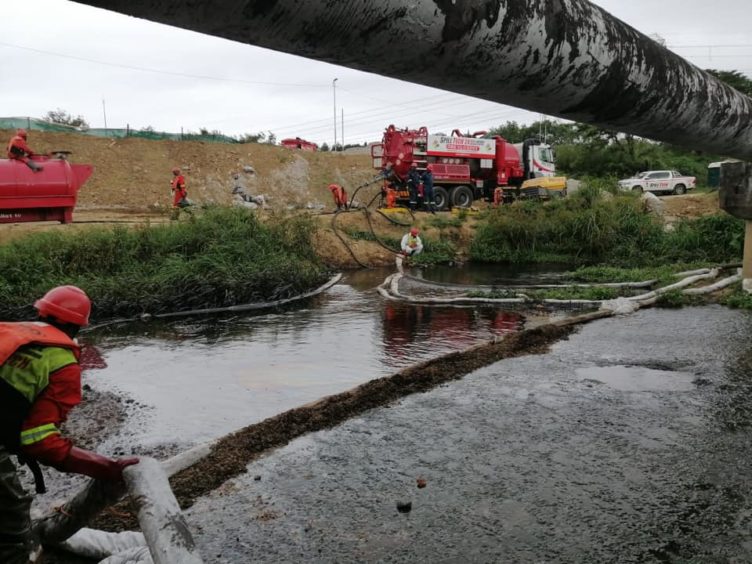 South Africa's Transnet Pipelines has contained a crude oil spill in Durban caused by attempted theft.
The company said the spill had happened on October 19 in Bellair. Following the incident, Transnet activated its emergency response team. This worked to limit the spill and recover the lost product.
Transnet has now plugged the leak and is preparing to carry out full repairs.
As a result of the spill, no fishing will be allowed in the harbour for seven days. Transnet said that cleaning and rehabilitation of the stream – from the leak to the harbour – had begun.
Member of the Executive Council for Economic Development, Tourism and Environmental Affairs Nomusa Dube-Ncube said a team of environmentalists had been assigned to work with Transneft on the Bellair spill.
Dube-Ncube said she had visited the Umbilo River in order to assess the damage. "I will ensure that all spheres of government work in an integrated manner in order to strengthen measures undertaken by Transnet as part of cleaning and rehabilitating the source of the spillage and the harbour," the official said.
She also called on communities to work with law enforcement agencies to catch those responsible for vandalising Transnet's pipelines.
Suspicious activities
There have been more than 80 fuel theft incidents this financial year, Transnet said. Costs of such problems are "significant", it continued. The company has to repair damaged pipelines and remedy environmental problems caused.
Transnet is working on plans to tackle fuel theft. It has reported some positive results in the past. The company has worked with law enforcement agencies, leading to "numerous arrests" and impounded various vehicles, including fuel tankers.
The company operates 3,800 km of high pressure petroleum and gas pipelines across five provinces.
A court sent a man to prison for 13 years on October 17 for fuel theft, the South African Police Service announced. Batsarai Chimutanga had been caught driving a truck laden with stolen diesel, the police said.
The man had been arrested following a tip off that people were tampering with a Transnet pipeline in Kliprivier.
This sentencing "sends a strong message to other perpetrators that tampering with essential infrastructure is a serious offence which will be dealt with accordingly", Transnet said.
The company asked people living near pipelines, or driving past, to report any suspicious activity particularly at night.
Please report any suspicious tankers, bakkies or activities near our pipelines on 0800 203 843 #WhenYouSeeItReportit pic.twitter.com/FxYPp224kh

— Transnet SOC Ltd (@follow_transnet) October 21, 2020
Recommended for you
X

Tensions escalate in Nigeria over #endSARS protests