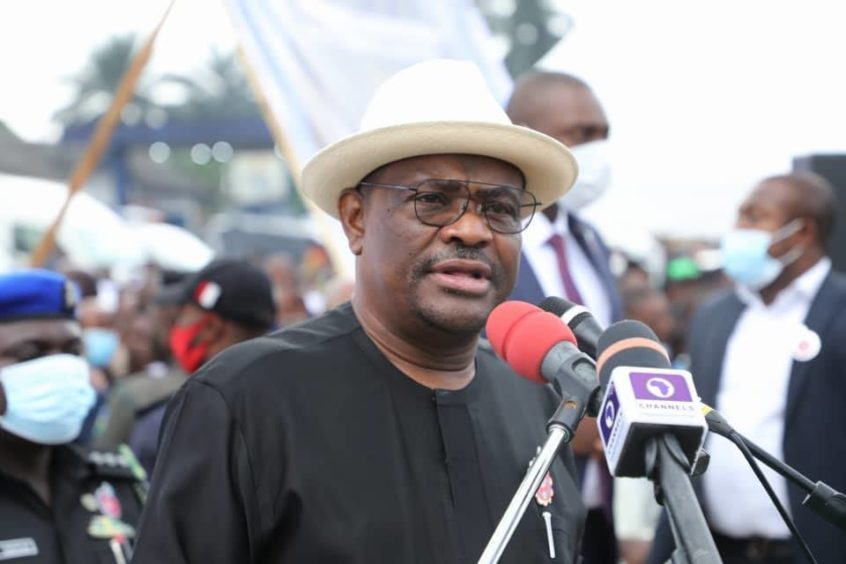 Rivers State Nyesom Wike has accused the federal government of driving the Ogoni clean up programme forward only when it is politically expedient.
The federal government has promised to tackle the area's oil spills but progress has disappointed. "They promised you they will do Ogoni clean up. Has it been cleaned?" Wike asked at the commissioning of a highway.
The successful construction of the road marked the difference between Wike's People's Democratic Party (PDP) and the All Progressives Congress (APC). "The difference is clear," he said.
"When election comes in 2023, they will start another clean up. You people don't even ask question. Why is it a year to election that Ogoni clean up will always commence? Now that there is no election are they doing clean up now? Watch from next year they will start clean up," the governor said.
The 16 km dual carriageway runs from Bori, an Ogoni centre, to Saakpenwa. The second phase will run from Bori to Kono. The same contractor, CCECC, will carry out work on the next phase.
Enugu State Governor Ifeanyi Ugwuanyi was quoted as saying that construction of the road was a campaign promise that had been met. "Expectedly, it gladdens the hearts of Ogoni people and reinforces their faith in our constitutional democracy," he said.
"I enjoin the good people of Ogoniland and entire Rivers State to continue to support Governor Wike with their prayers and wise counsel as he takes Rivers State to the next level."
Wike won his re-election campaign in April 2019.
HYPREP's hopes
The United Nations Environment Programme (UNEP) issued an assessment of the problems in Ogoniland in 2011. Nigeria launched the Hydrocarbon Pollution Remediation Project (HYPREP) in 2017.
Nigerian President Muhammadu Buhari was responsible for driving the clean-up progress, HYPREP's project co-ordinator Marvin Dekil, speaking in November, said.
"His honesty and concern to the plight of the Ogoni people and indeed the rest of the Niger Delta is the reason our land is being cleaned up today," Dekil said.
During the first phase of work, covering 21 lots, 11 have been completed and the others are at 90% completion. The agency has allocated another 36 lots to companies for remediation work.
The next stage of work will be more complicated, with a focus on swamp areas. HYPREP has found new sites, Dekil said, linked to illegal refineries. Local land disputes have slowed some work, the official said.