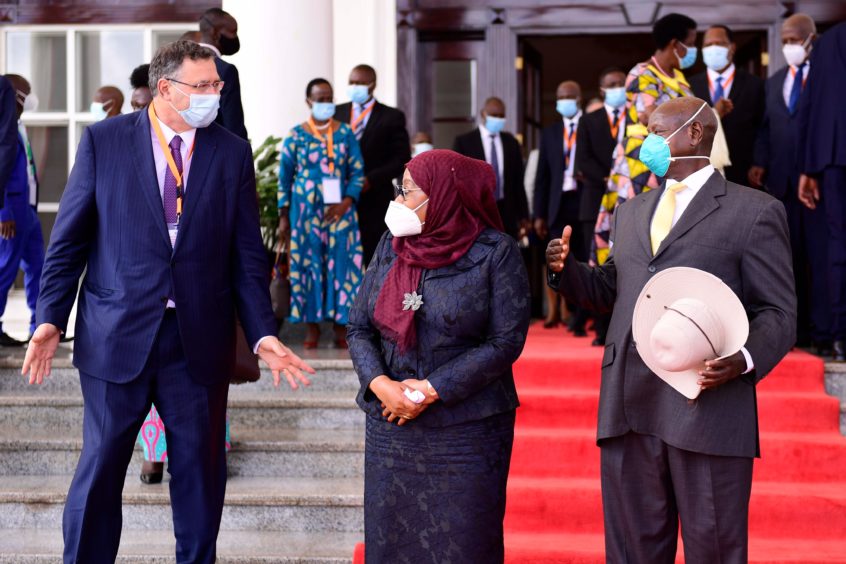 Total has taken a final investment decision (FID) on the Lake Albert development, putting Uganda on the path to first oil in early 2025.
The approval covers the East African Crude Oil Pipeline (EACOP) and the two upstream components, Tilenga and Kingfisher. Total operates Tilenga, CNOOC Ltd Kingfisher.
The French company's CEO Patrick Pouyanné attended a ceremony in Uganda to mark the decision. The FID is "the beginning of the journey" he said.
Ugandan President Yoweri Museveni and Tanzanian President Samia Suluhu Hassan also signed the tripartite agreement, in Entebbe.
"The Tilenga development and EACOP pipeline project are major projects for Total and are consistent with our strategy to focus on low breakeven oil projects while lowering the average carbon intensity of the Group's upstream portfolio. These projects will create significant in country value for both Uganda and Tanzania" Pouyanné said.
"Total is also taking into the highest consideration the sensitive environmental context and social stakes of these onshore projects. Our commitment is to implement these projects in an exemplary and fully transparent manner".
Yes a day of history for Uganda, for Tanzania, for East Africa, for Total. Very proud of all our teams . Never give up! Special autograph from both President to Total teams😀 https://t.co/dr33Cs0dVZ pic.twitter.com/PmLgz6ql0h

— Patrick Pouyanné (@PPouyanne) April 11, 2021
The pipeline will run from Kabaale, in western Uganda's Hoima region, to Tanga, a port in Tanzania. It will be able to carry around 230,000 barrels per day of crude, which it will have to heat.
The two heads of state noted that they had taken steps to conclude tariff and transportation agreements, the host government agreement (HGA) for Uganda and the shareholding agreement on EACOP.
As such, the companies involved "can now launch the EACOP project and award" the engineering, procurement and construction (EPC) contracts.
Tanzania also committed to signing an HGA on the project "and related agreements" with the EACOP company.
Total will hold the major stake in the heated pipeline, at 72%. Uganda will have 15%, while Tanzania will have 5% and CNOOC Ltd 8%.
Hurdles
A group of NGOs opposing the EACOP plan accused Total of greenwashing. The #StopEACOP Alliance said there were still "many hurdles" ahead. The group called on affected communities and civil society groups to continue putting pressure on financial institutions to not support the project.
Barclays and Credit Suisse have already opted out of the plan, the NGO group said.
The StopEACOP group went on to issue a response to Total's defence in March of its analysis of the impact of the Lake Albert development.
The French company's efforts are "no more than a strategy to obfuscate the dire reality in Uganda and Tanzania", the group said.
Uganda is also working to finance its stake in the pipeline. The government hopes to raise $130 million but has faced some unexpected challenges from Parliament.
The Tanzanian choice
Museveni, in a speech at the signing, said it had taken 15 years to get to this point because of differing perspectives between Uganda and the oil companies.
The president said he had initially been opposed to a pipeline, preferring instead to back a local refinery. Uganda's demand is 38,785 barrels per day, he said, and the wider regional total is 98,250 bpd.
The companies wanted only to export crude, he said.
Kenya had been the initial export route choice, but this would cost $15.8 per barrel. Exports via Tanzania meanwhile will cost $12.77 per barrel, although this will be effectively $13.03 per barrel as a result of some land and port charges.
Museveni also pointed to Tanzania's support for the Ugandan revolutionary movement, in which he participated. The construction of this pipeline, and tariffs, will be a "modest contribution" to Tanzania's development, he said.
I thank Her Excellency Samia Hassan for indulging my sentimental request of conducting this signing ceremony on the 11th of April, 2021. 42 years ago, this same day, is when the Tanzanian troops captured Kampala and enabled, Oyite Ojok, to announce the fall of Idi Amin. pic.twitter.com/aMx5Zwbiis

— Yoweri K Museveni (@KagutaMuseveni) April 11, 2021
Updated at 7:53 am on April 12 with additional detail from Total. 
Updated at 9:44 am with statement from the StopEACOP Alliance.
Updated at 12:42 pm with EACOP map from UNOC. 
Recommended for you

EACOP stresses high-tech approach, as Kampala protestors arrested