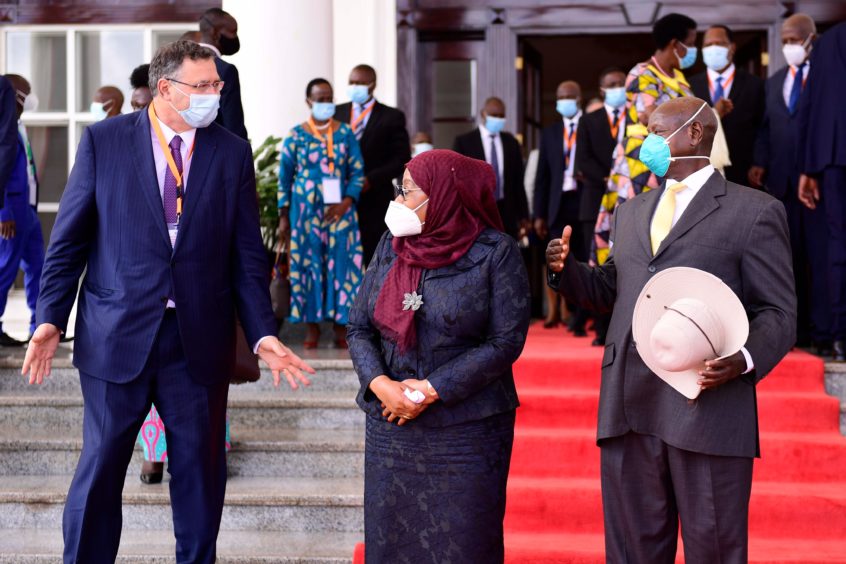 Uganda's oil plans are starting to come together, with contracts nearing on the current project and with more to come.
East African Crude Oil Pipeline (EACOP) general manager Martin Tiffen said the "main suite of agreements" were in place, but that the full agreements would come once the legal and commercial framework had been completed.
"We've identified four key contractors who are working under conditional award," Tiffen said during the Uganda International Oil and Gas Summit (UIOGS) this week. "That's allowing us to work on things like detailed engineering."
EACOP has "a number of mills and steel suppliers around the world lined up and ready to meet our specification and delivery schedule. They're ready for the last and final bids," Tiffen continued. "Today, the line pipe has not been physically ordered," he said, responding to rumours that it had been contracted.
The plan for the pipeline entails 18 metre lengths of line pipe, he said.
Tiffen also said the company had begun land acquisition in Tanzania. The focus has been on priority areas, he said, such as construction yards, the main camp, piping yards and the thermal insulation plant.
"Towards the end of the year, working with local contractors, we hope to start civil engineering and land clearance," he said.
Local links
EACOP held a local content workshop in Dar es Salaam last week, with around 500 business people. "We explained the nature of opportunities and our standards required, the processes around EACOP – the opportunities ahead of us," Tiffen said. The pipeline company will hold a similar workshop in Uganda in "the coming months", he said.
Uganda National Oil Co. (UNOC) executive JB Habumugisha also noted the importance of local involvement. New projects are coming up, he said, including a 210 products pipeline from the Hoima refinery to the Kampala Storage Terminal.
The terminal will be the "main recipient" of products from the refinery, he said. Initially, it will hold 130 million litres of products, but with scope to grow.
UNOC is working on selecting an investment partner, with the company aiming to keep a 51% stake. "In 2022, we should be in the process of selecting construction partners and financing. We'll be closing key decisions around the project," he told UIOGS attendees.
The Ugandan company has worked to increase local capacity, Habumugisha said. It has seconded workers to EACOP and TotalEnergies, to learn about the mid- and upstream respectively.
Recommended for you

EACOP stresses high-tech approach, as Kampala protestors arrested