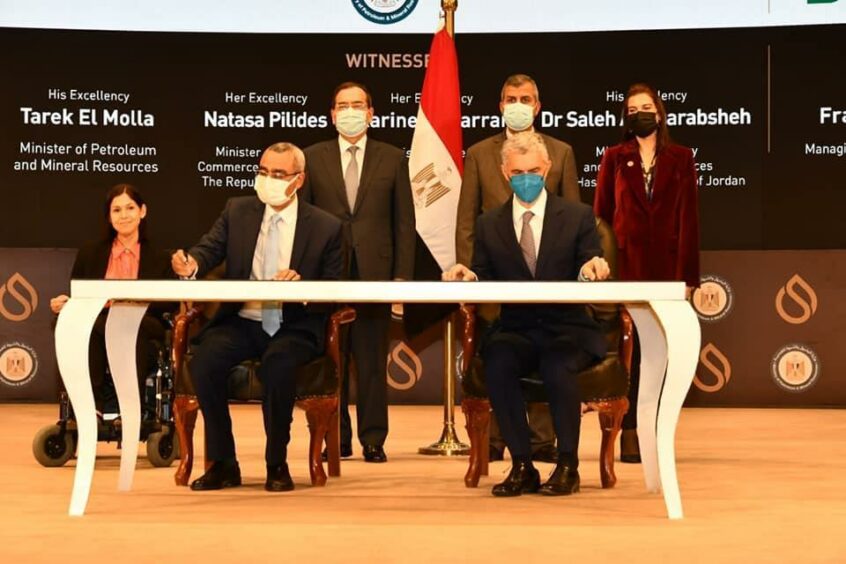 Egyptian Minister of Petroleum and Mineral Resources Tarek El Molla has struck deals with Apache and Yemen, while backing plans for an Egyptian company to pursue petrochemical works in Nigeria.
El Molla was participating in the under way Egyps 2022 conference. It opened on February 14 and will run to February 16.
The minister signed a memorandum of understanding (MoU) with Yemeni Minister of Petroleum and Minerals Abdul Salam Baaboud. The agreement focuses on Egyptian engineering companies working on projects in Yemen.
Alternative exports
El Molla highlighted the importance of the East Mediterranean Gas Forum (EMGF) in his opening speech. The minister, with his counterparts from Jordan, Cyprus and Israel, witnessed the signing of a strategy review with Boston Consulting Group (BCG).
It will provide a complete strategy for the forum by mid-2022.
Osama Mobarez, secretary general of the EMGF, signed the deal with BCG managing director Francisco Palmieri. Mobarez was also involved in discussions on hydrogen.
"In the context of Egypt's transformation into an energy hub, natural gas plays a pivotal role in securing part of Europe's energy needs," El Molla said in his speech. He noted exports of gas, from domestic production or imported, via the two liquefaction plants in Idku and Damietta.
Egypt also exports gas to Jordan, via the Arab Gas Pipeline (AGP). Supplies "shortly will reach Lebanon", El Molla said.
New subsea pipelines are planned in the East Mediterranean, in line with agreements struck with Greece and Cyprus. Egypt aims to "increase its gas exports and strengthen its position as one of the main energy suppliers to Europe".
The Egyptian oil ministry signed an MoU with Apache, witnessed by its CE
Apache, Nigeria
The Egyptian oil ministry signed an MoU with Apache, witnessed by its CEO and president John Christmann. This focused on Apache's Khalda and Qarun Petroleum, which merged in December 2021.
Apache increased its rig count in Egypt to 11 in 2021 and is aiming to step this up to 15 this year.
El Molla also witnessed the signing of an agreement between Sidi Kerir Petrochemical Co. (SIDPEC) and Nigeria. This aims to build a petrochemical complex in Nigeria with Rungas, with SIDPEC participating and providing technical support.
International Energy Agency head Fatih Birol also took part in Egyps 2022.
I was honoured to give the opening keynote at the international @Egyps conference in the presence of 🇪🇬 President @AlsisiOfficial

My speech focused on Egypt's key role in the lead-up to #COP27 & the critical importance of mobilising greater financing for clean energy in Africa pic.twitter.com/gkEz2LHiLb

— Fatih Birol (@fbirol) February 14, 2022