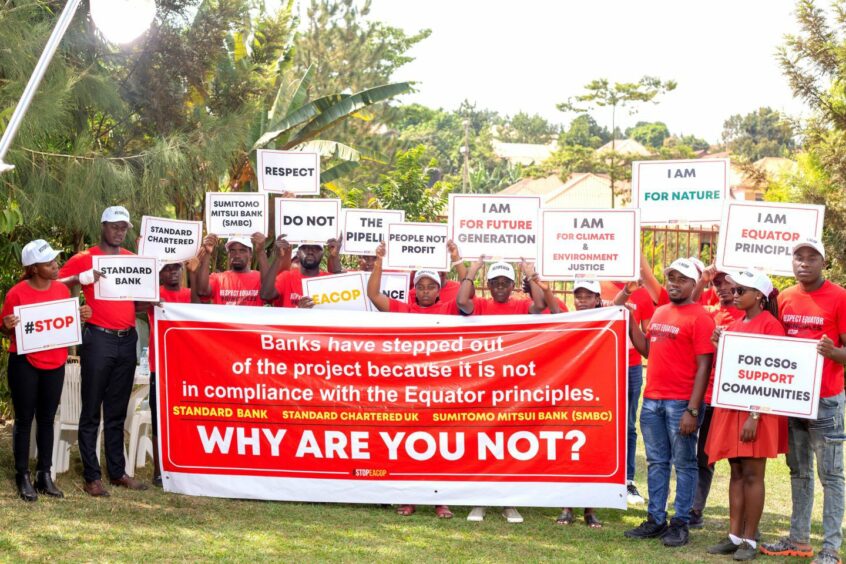 Sumitomo Mitsui Banking Corp. (SMBC) will not fund the controversial East African Crude Oil Pipeline (EACOP), following Standard Chartered's similar rejection.
Bloomberg reported SMBC chief sustainability officer Masayuki Takanashi as saying the bank was "not currently involved" at a media briefing in Tokyo.
SMBC has acted as financial advisor of the pipeline project, which will run from Uganda's west to the Tanzanian port of Tanga.
The StopEACOP group welcomed the announcement. SMBC's withdrawal is a "particularly stark warning that the EACOP project is too risky, and financial institutions should disassociate themselves from this controversial pipeline".
The NGO called on EACOP's other two financial advisors, Standard Bank and the International Commercial Bank of China (ICBC), to drop the project.
Uganda Energy and Minerals Development Minister Ruth Nankabirwa said last week EACOP would need about $1.8 billion of debt. The total cost is around $3.5-4bn, with shareholders providing the outstanding financing.
Nankabirwa said the Export-Import Bank of China would provide some of the debt needed for EACOP, according to Uganda's URN.
BankTrack researcher Henrieke Butijn noted SMBC had provided financial advice to TotalEnergies and joint arranger for the EACOP loan. "As the risks of financing the EACOP become increasingly clear, we hope this news will set an example for SMBC's Japanese peers, including MUFG, and all other financial institutions that have not yet publicly ruled out support," Butijn said.
A licence round is currently under way in Congo Kinshasa. A number of blocks are available in the Congo's east, with recent talk suggesting exports could take place via EACOP.
AGM season
Masayoshi Iyoda, interim team lead of 350.org Japan, said the "AGM season in Japan is approaching". Investors are watching "banks' real commitment for the real solutions of a just transition to 100% renewables".
SMBC announced a new plan to tackle issues arising from climate change, on May 15. The Japanese bank has said it is scaling down its financing for coal.
A shareholder proposal has called for SMBC to set out a transition plan. The aim would be to align its financial portfolio with net zero by 2050. SMBC's board has said it would oppose the shareholder proposal.
Recommended for you

EACOP stresses high-tech approach, as Kampala protestors arrested