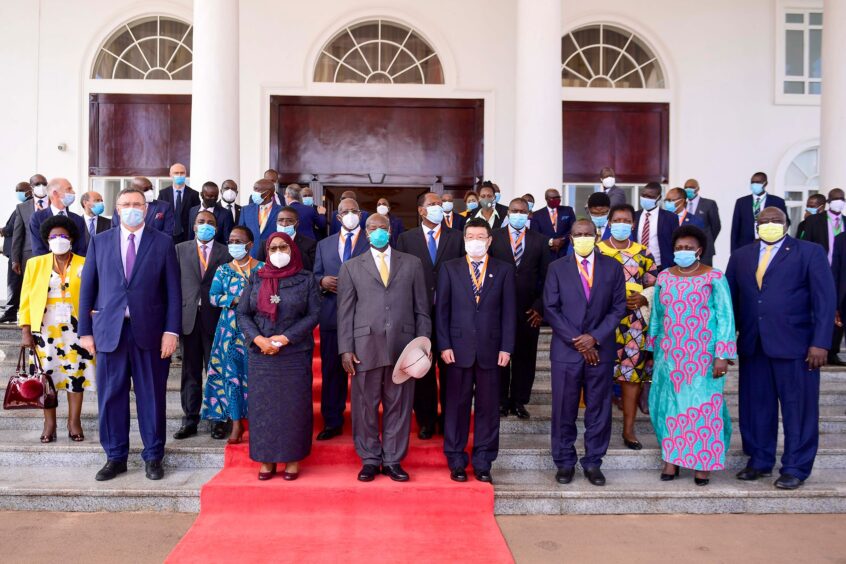 Front-end engineering and design (FEED) work on the Uganda refinery should be completed in August, with a final investment decision (FID) possible in June 2022.
The general manager for the refinery project Michael Mugerwa set out the plans during the Uganda Chamber of Mines & Petroleum's 7th Annual Oil and Gas Convention. The plant should reach commissioning in 2026.
FEED is at 97%, Mugerwa said.
It will have 60,000 barrels per day of capacity and be located near Kabaale. The government will have up to 40% in the plant. Tanzania may have an 8.5% stake in facility and Kenya 2.5%,
"We are also looking at some East African institutions like the National Social Security Fund, which has an interest in investing in the refinery," Mugerwa said. Spending on the plant will be about $4 billion.
Partners and financing are key to the project's progress, the official said.
The refinery has a memorandum of understanding (MoU) with the upstream operators giving the plant a first right of call on produced crude.
Production would include LPG, Euro-5 gasoline, Euro-5 diesel, jet fuel and a "very small" amount of sulphur and heavy fuel oil. Eventually, this will expand into plastics and petrochemicals, Mugerwa said.
The Uganda Refinery Holding Co. is a subsidiary of Uganda National Oil Co. (UNOC). The refinery company is working to secure financing for Uganda's stake in the plant.
A study from Stanbic Bank found that the plant would create 32,000 jobs in the short term and 700 in the long term. It would also improve the country's balance of payments by $591 million through reducing product imports.
"A key UNOC driver is capacity building through national content development and technology transfer," Mugerwa said.
International expertise
Total E&P Uganda's managing director Pierre Jessua also flagged the importance of local content needs, but balancing this with a drive for international expertise.
Jessua, speaking at the same event, said "action is now taking place" at the Lake Albert plan. The company has signed contracts for energy infrastructure and conditional letters of award, primarily with McDermott and Sinopec.
"We are mobilising people and we are willing to achieve all the goals in order to produce oil in 2025," Jessua said. "We talked so much about the final investment decision (FID) that it seemed to be a goal. That's not the goal. The goal is to develop these projects and produce oil – and provide revenues to the country."
The project requires "international expertise", Jessua said. "We will bring international experts to provide their expertise in their field. We are bringing people from Total who have done this before elsewhere." Total will provide 60-65 people, the executive said.
"This is sometimes seen as antagonistic with local content but this is untrue. We need expertise and we ned local people," Jessua said. "My message is not to oppose these experts from Total who are joining us. We need to work jointly and pragmatically."
The presence of COVID-19 is an additional complicating factor. Jessua said 65% of employees had received a first vaccine.
Recommended for you

TotalEnergies plans jumbo green hydrogen tender to cut emissions