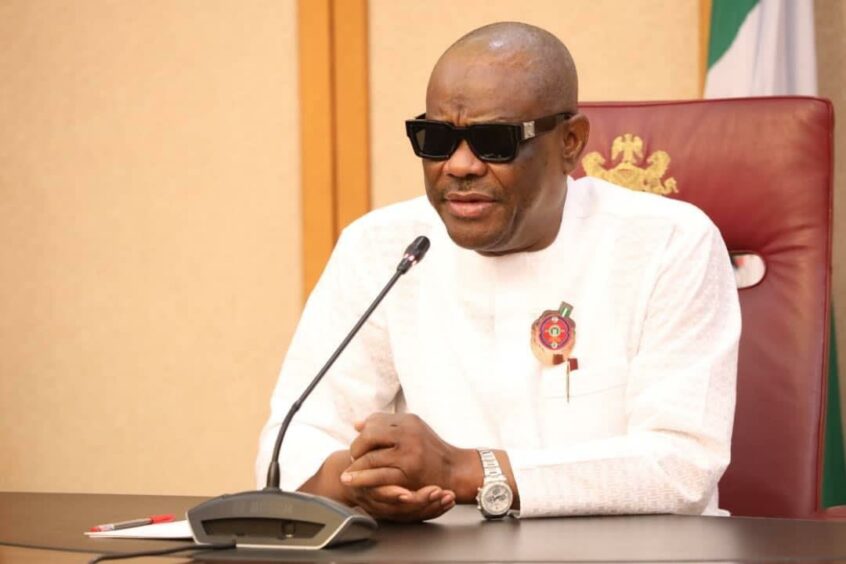 Rivers State Governor Nyesom Wike has launched new plans to crack down on illegal refining, including tackling those facilities linked to the security forces.
Wike, speaking a week ago, issued an ultimatum to the heads of the 23 local government areas (LGAs). They must provide a list of illegal refineries, he said, and their operators.
For every illegal refinery the officials report, they will receive a bounty of 2 million naira ($4,820). The LGA chairmen must show they are not complicit in the business of illegal refining, he said.
"Our people are dying and we owe our people the responsibility to protect them, to save them from death they never caused," Wike said. "So, you must, and you're given 48 hours to go and identify all illegal refineries sites, and those who are in charge of them." Rivers State has declared "total war", he said.
The governor went on to call for the chairmen to destroy the illegal refinery sites. The officials should hire bulldozers and carry out "mass destruction".
In addition to the health impact of illegal refining, the practice also reduces the state's earning. "Akwa Ibom and Delta States are getting more" than Rivers, he said. "These boys of the cartel have caused so much problems for us. So we will not allow it."
Security woes
Wike also warned security agencies to take steps to ensure they were monitoring their own employees. Addressing State Police Commissioner Eboka Friday, the governor highlighted one divisional police officer in Emohua LGA.
Wike thanked the commissioner for "transferring the DPO in Rumuji, who owns a refinery. But the man must leave here, not transferred. He must leave this state. I can't be Governor here and security man owns an illegal refinery. No, it is not possible…the man has to go. Take him to wherever they allow bunkering."
The governor also called on the commissioner to arrest three locals, Chief WJ Wocha, Fubara Ohaka and Chief Promise Ezekwe for operating illegal refineries in Emohua.
Wike said the police should also participate in the destruction of illegal refinery sites. "I am not against anybody making money. But, we cannot allow people to make money, while others are dying."
The Rivers State governor went on to say the federal government had failed to tackle the issue of toxic soot in the oil-producing states.
Local officials seem to have taken Wike's directive on board. Youths and Environmental Advocacy Centre (YEAC) director Fyneface Dumnamene said he had accompanied the chairman of Emohua LGA to visit illegal refinery sites on January 20.
Three refinery sites were found to have "massive pollution", with the Emohua chairman saying the name of the operator would be provided to the police.
Dumnamene said they had also visited the 16 sites linked to the police officer named by Wike. The YEAC man said none had been destroyed yet, but this would be the next step.