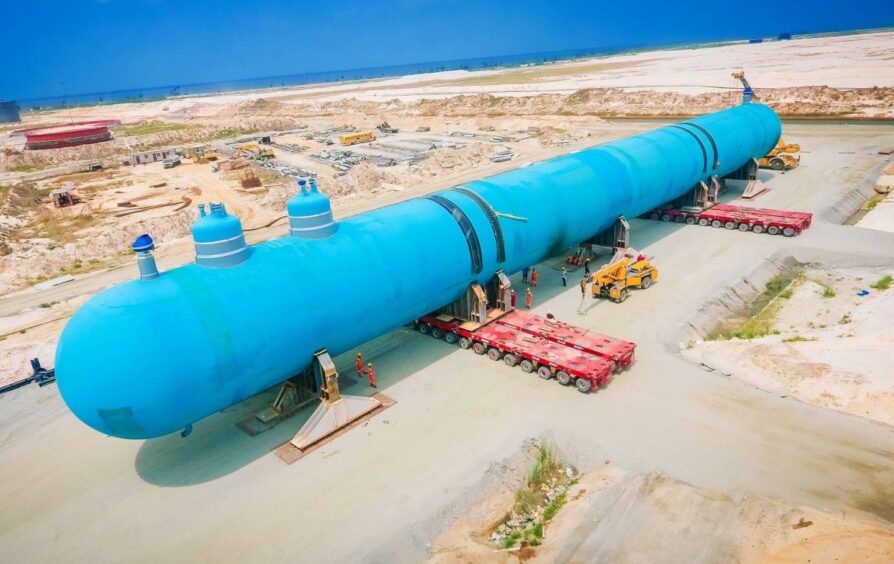 Dangote Industries will commission its 650,000 barrels per day refinery by the end of the year, officials have told African Development Bank (AfDB) president Akinwumi Adesina.
AfDB provided a $300 million to Dangote in 2014, for the $19 billion refinery and a fertiliser plant. Dangote had initially planned to bring the refinery online in 2017-18.
Company officials have previously aimed to start up early this year, although various of its partners guided for late 2022.
Dangote CEO and president Aliko Dangote said the facility had reached mechanical completion. Processing should begin in the third quarter, he said, reaching full production by the end of the year or early 2023.
"I am completely blown away by the magnitude of what I see here," Adesina said on January 22. "This is a world-class industrial complex that will make Nigeria and Africa proud. We at the African Development Bank are proud of this project. Every African country needs to have an Aliko Dangote to help the continent industrialise."
Dangote is building the plant in the Lekki free trade zone, covering 2,635 hectares.
Adesina said Dangote's progress demonstrated that "governments should prioritise industrialization. We must continue to support the private sector, considering the value they bring."
CEO Dangote projected that, by 2023, Nigeria would not import any petroleum products. The refinery will be the largest single train facility in the world.
Dangote welcomed support from the Nigerian government, lenders and development finance institutions, such as the African Development Bank. "We have enjoyed a good working relationship with the Bank and this visit further encourages us."
Beyond refining
Adesina and Dangote discussed future collaboration. This might include the creation of an African manufacturing corps, which would allow skills sharing across the continent.
The fertiliser plant has two trains, each producing 2,200 tonnes per day of ammonia and 4,000 tonnes per day of urea. The first started up in the second quarter of 2021, Dangote expects to start the second this quarter.
The International Monetary Fund (IMF) has said that the Dangote Refinery starting up and covering Nigeria's product needs would improve its current account balance.
"With crude oil for local refining not subject to the OPEC quota, the refinery also has the potential to catalyse more domestic crude oil production and boost GDP growth," it said.
Nigeria is currently a major importer of refined products. This is the top export from the UK to Nigeria, for instance. Refined products accounted for nearly 42% of all goods supplied by the UK to Nigeria, or £515 million in a 12-month period.
Recommended for you

Nigeria aims to add 700,000 bpd this year