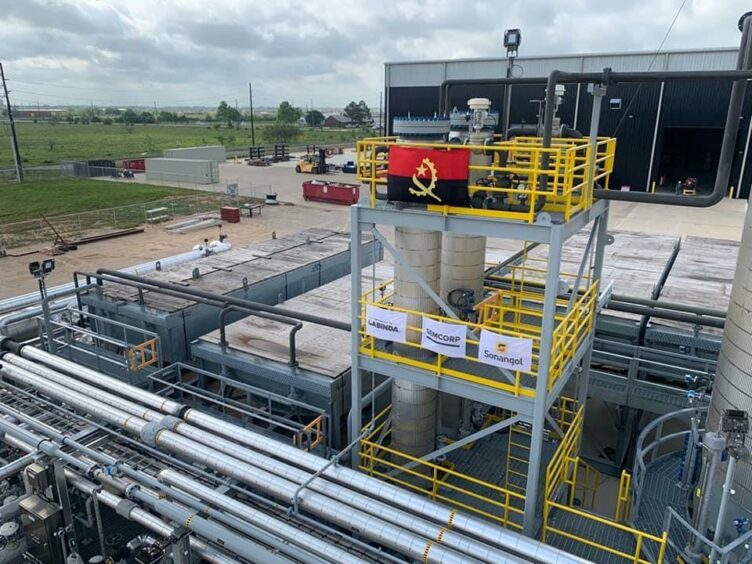 VFuels is making progress with its Cabinda refinery work at facilities in Houston, with equipment passing its factory acceptance testing (FAT).
The first phase of the project will cost $350 million and have a 30,000 barrel per day crude distillation unit (CDU). The full three phase plan will cost $1 billion, with capacity of 60,000 bpd.
VFuels said it had carried out the testing on May 2. The FAT work ensures equipment is fit for purpose before the company delivers it to the destination.
Angolan Minister of Mineral Resources, Oil and Gas Diamantino Azevedo and Sonangol CEO Sebastião Gaspar Martins visited the VFuels facility as part of the proceedings.
The company said its Cabinda work had created 500 jobs in Houston. It is expected to create 1,300 jobs in Angola.
The crude distillation column is the largest to date by VFuels and the largest single train modular CDU built to date globally.
Gemcorp Holdings took a final investment decision (FID) in October 2020 on the Cabinda refinery. Odebrecht is the main engineering, procurement and construction (EPC) contractor.
Seeking support
An Angola delegation will participate in this week's OTC in Houston. Azevedo, with the head of Agencia Nacional de Petróleo, Gás e Biocombustiveis (ANGP) Paulino Jeronimo and Angola's consul in Houston Ana Paula Nascimento are hosting an event today.
The second and third phases of the Cabinda refinery will add another 30,000 bpd of processing capacity. They will also include units for catalytic reforming, hydrotreating and catalytic cracking.
VFuels said the Cabinda plan was a "key step" in reducing Angola's dependence on imported products.
The contractor will build the plant in Malembo, near the shallow-water Malongo oilfield.
Angola is also working on a refinery project at Lobito. Zambia expressed interest in taking a stake in the 200,000 bpd plant in April. The country has also expressed concerns about energy security.
Recommended for you

AFC, Afreximbank close financing for Cabinda refinery