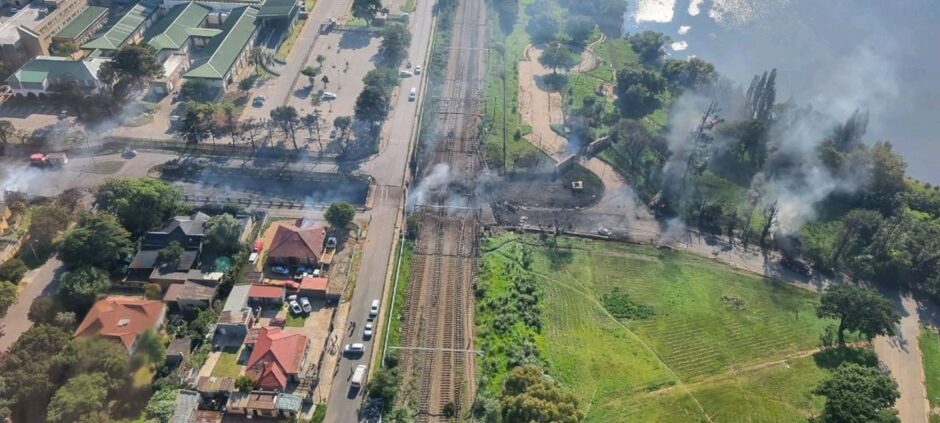 An explosion on Christmas Eve outside Johannesburg has now killed 27 people, including 10 health workers, according to the latest figures from Gauteng Health.
An LPG tanker appears to have taken a wrong turn and attempted to go under a low bridge. The tanker got stuck and began releasing gas, which was subsequently ignited.
JHB – Boksburg: Gas Truck Explosion: Road Closures of Hospital Road / Railway Road pic.twitter.com/GyuZn9Zqc1

— TrafficSA (@TrafficSA) December 24, 2022
The tanker was around 100 metres from the Tambo Memorial Hospital. Official statistics report the death of at least eight nurses.
Gauteng Health had put the number of dead at 18 on December 28, increasing it to 27 today. The authorities said the explosion reached 500 metres. The explosion also injured a number of workers and patients, in addition to firefighters.
The police arrested the tanker driver for culpable homicide, but then released him. A statement from the driver's employer, Innovative Staffing Solutions (ISS), confirmed his release "due to insufficient evidence that the driver was negligent or at fault".
Bridge problems
ISS said the unnamed driver had been on his way from Richards Bay to Botswana. He took a wrong exit when attempting to get on the N17 highway. On his approach to the bridge, the height restriction boards were illegible.
Once the tanker was stuck, ISS said the driver got out and alerted the authorities. He also attempted to prevent traffic, although some passing vehicles seemed to ignore the warnings.
"The driver kept shouting at people to leave the scene and even tried to physically move the gathering crowds out of the way," ISS said. The driver inhaled gas and lost consciousness, with an ambulance taking him away.
The truck ignited around 30 minutes after it got stuck, ISS said.
"We are deeply saddened by this horrific and tragic event that claimed the lives of people and left several people injured," ISS Managing Director Arnoux Maré said.
The driver was not negligent, Maré continued. He "did everything in his power to alert people to the dangers of the situation". His actions "potentially saved the lives of countless other people. Our deepest condolences and prayers to the families who lost loved ones," said Maré.
Recommended for you

Joburg street explosion flips taxis, one killed