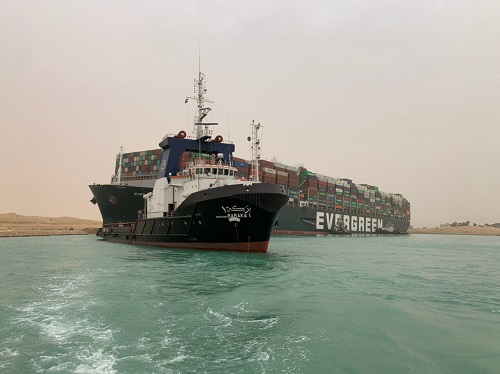 The MT Ever Given container ship has become wedged into the wall of the Suez Canal, blocking the waterway.
Pictures on social media show the Panamanian flagged vessel became stuck after attempting to make a turn.
The 400-metre ship ran aground early on Tuesday morning. It was on its way from China to Rotterdam. The ship lodged its bow into the wall of the canal.
Data analytics company OilX reported the impact on oil supplies would be "relatively muted". Northbound volumes have been low recently, it said. Furthermore, storage levels at Sidi Kerir appear "healthy", OilX said.
The Suez Canal Authority (SCA) is providing ships and rescue units in an attempt to re-float the Ever Given, it said. It has provided eight tugboats for the work.
SCA chairman Lieutenant-General Osama Rabie said the canal would spare no effort to get operations back to normal.
A statement blamed a lack of visibility, caused by bad weather and a dust storm. Wind speeds reached 40 knots, the SCA said.
Bernhard Schulte Shipmanagement (BSM) is the technical manager of the Ever Given. In a statement, the company said it was working with local authorities and service providers to re-float the vessel.
The crew are all safe, with no injuries, and there have been no reports of pollution, it said.
GAC reported that, as of 12:00 local time, it had been partially re-floated and "is now alongside the Canal bank". Traffic should ease once the vessel is towed to another position, GAC said.
Terrorism risk
Dryad Global warned there was a heightened risk to vessels in the lower Red Sea and the Gulf of Aden.
The Red Sea and the Bab-El-Mandeb strait is a chokepoint for vessels.
Dryad noted that Houthi rebels, from Yemen, have been known to use remote controlled waterborne improvised explosive devices and anti-ship cruise missiles.
There have also been reports of sea mines in the area. Iran backs the Houthis.
There have also been reports from Iran that Israeli forces have carried out attacks on the Iranian shipping fleet over the last two years.
Dryad went on to note that it was "highly irregular" that vessels "unconnected to the wider geo-political narrative" would be targeted. It said crime and piracy risks in the area were low.
Since 2016, flows of crude and LNG northbound through the canal have slowed, according to the US Energy Information Administration (EIA). Volumes heading south have increased.
The Sumed pipeline mirrors the Suez Canal and provides an option for oil flows, with 2.5 million barrels per day of capacity. There is also the Ashkelon-Eilat pipeline, which has 600,000 bpd of capacity when operated north to south, OilX said.
As a result, "pipeline capacity is larger than normal crude flows across the canal".
Updated at 11:09 am with OilX comment.