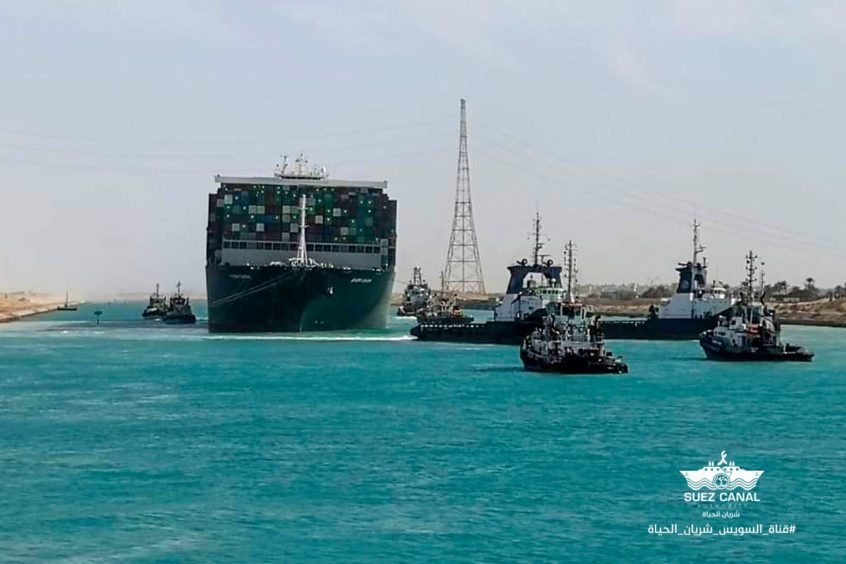 The Ever Given has reached the Great Bitter Lake, allowing the Suez Canal traffic jam to begin easing.
The containership had become stuck across the Suez Canal since March 23, halting transits. As of the morning of March 30, the Ever Given was in a staging area in the canal, according to Marine Traffic ship tracker.
Boskalis' SMIT Salvage unit helped free the ship.
"I am excited to announce that our team of experts, working in close collaboration with the Suez Canal Authority [SCA], successfully re-floated the Ever Given on March 29 at 15:05 hrs local time, thereby making free passage through the Suez Canal possible again," said Boskalis CEO Peter Berdowski.
"I'm extremely proud of the outstanding job done by the team on site as well as the many SMIT Salvage and Boskalis colleagues back home to complete this challenging operation under the watchful eye of the world.
"The time pressure to complete this operation was evident and unprecedented and the result is a true display of our unique capabilities as a dredging and marine services provider."
The SCA held a press conference on the evening of March 29. The head of the agency Osama Rabie said the backlog of 422 ships should clear within four days, Reuters reported.
Freeing the Ever Given took 11 tugs and two seagoing tugs – the Alp Guard and Carlo Magna – Boskalis said.
Checking out
Inspectors will examine the vessel before it moves on.
Bernhard Schulte Shipmanagement (BSM) confirmed the ship was floating again as of 3 pm local time. BSM said there had been no reports of pollution or cargo damage. Initial reports ruled out mechanical or engine problems as causes for the grounding.
Evergreen Line said the outcome of the inspection will determine whether the ship can resume work. "Once the inspection is finalised, decisions will be made regarding arrangements for cargo currently on board," it said.
Evergreen leased the Ever Given.
The International Transport Workers' Federation (ITF) welcomed the news. The organisation said this was a demonstration of the importance of tug boats.
Diverting round South Africa and the Cape of Good Hope would take an additional 26 days, the ITF said, and more than $800,000 in fuel costs.