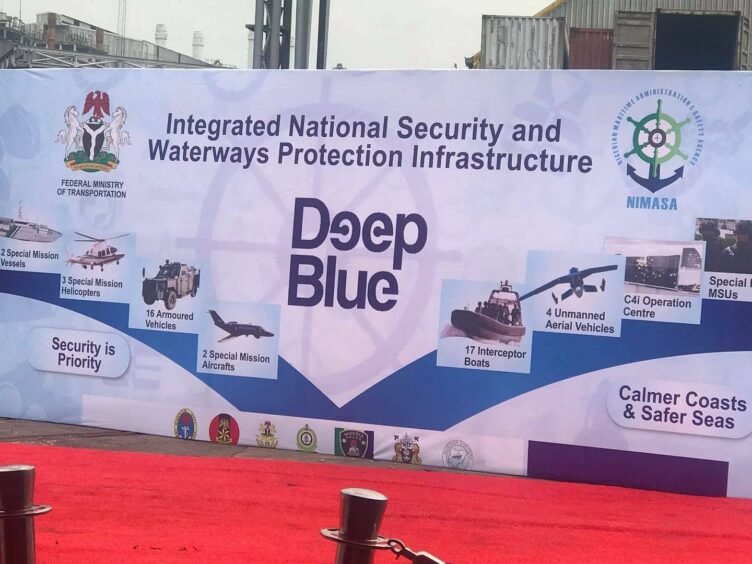 Nigeria's Barugu gunboat has sunk at a dock in Lagos, highlighting the country's continued challenges to impose offshore security.
Video on social media show the vessel sinking, while moored at a dock. The Barugu was at the Kirikiri Terminal, close to the Nigerian Maritime Administration and Safety Agency (NIMASA) offices.
Global West Vessel Specialist owns the Barugu patrol vessel but contracts it to NIMASA.
Reports of those involved in the vessel have pinned the blame for the sinking on NIMASA – and warned of more to come.
A statement from NIMASA denied responsibility. A representative said the Global West ships had been "the subject of litigation and in the custody of the Economic and Financial Crimes Commission (EFCC) for years".
The Barugu "was not at our pier or under our management at the time of the incident", NIMASA said. The crew on the vessel reports to Global West, rather than NIMASA, he continued.
The maritime agency said efforts to put the Global West vessels into service had been hampered as a result of a court case.
Complex contracts
Global West signed a deal with NIMASA in 2012 to provide security to Nigeria's offshore.
The deal was thrown out in 2015. The same year, the Economic and Financial Crimes Commission (EFCC) launched an investigation into Global West and its owner, Government Ekpemupolo, a Niger Delta militant known as Tompolo.
The EFCC alleged Tompolo and others had defrauded NIMASA. A court acquitted Tompolo in 2020.
In November 2021, Nigeria's Daily Trend reported an interview with a Global West employee. Rowland Omobude said that while Global West had won the court case, NIMASA had failed to pay for work performed.
The EFCC continues to chase the former director general of NIMASA, Patrick Akpobolokemi. The agency charged him with numerous instances of fraud. The trial is ongoing.
The Global West fleet was originally from Norway. The Nigerian company bought seven decommissioned military vessels from the Norwegian armed forces in 2013.
Recommended for you

Delayed Dangote launch to end Nigeria's fuel imports, Kyari says