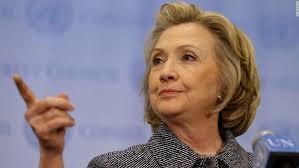 Hillary Clinton's promise during a debate Sunday to aggressively regulate fracking deepens the divide between Republican and Democratic presidential candidates on oil and gas development and signifies her continued shift to the left on environmental issues.
In the Democratic presidential debate in Flint, Michigan against Vermont Senator Bernie Sanders, Clinton said she wouldn't support fracking in states or local communities that don't want it, if it causes pollution, or if the chemicals used aren't disclosed.
"By the time we get through all of my conditions, I do not think there will be many places in America where fracking will continue to take place," Clinton said.
The comments marked a shift for Clinton, who, like President Barack Obama, has generally supported fracking, while insisting methane leaks must be plugged and steps taken to ensure the practice doesn't contaminate water. She even highlighted natural gas in a campaign fact sheet last month as lowering energy costs, reducing air pollution and putting people to work.
Practical Impact
But translating Clinton's debate-stage profession into actual regulation clamping down on the technique would be difficult, if not impossible. There are limits to what a president — any president — can do to limit the hydraulic fracturing process now being used to free gas and oil from dense rock formations nationwide.
Although state and local governments regulate the practice — and some ban it altogether — the federal government doesn't have much authority to directly regulate fracking on private lands. The biggest openings are through laws allowing the Environmental Protection Agency to regulate air and water pollution tied to fracking, said Kevin Book, an analyst with ClearView Energy Partners LLC. "But these controls are both limited and litigable."
Further, most U.S. oil and gas wells today are stimulated into production using hydraulic fracturing. Shut down fracking, and you shut down the oil and gas boom along with it, said Katie Brown, a spokesman for Energy In Depth, a research program funded by the Independent Petroleum Association of America.
Environmental Credentials
Clinton has worked to burnish her environmental credentials on the campaign trail, pressed by activists who have embraced Sanders and his clean energy agenda. Unlike Clinton's nuanced stance, Sanders' response to the issue Sunday was direct: "No, I do not support fracking."
Industry officials viewed Clinton's fracking answer "as a political response to the guy standing to the left of her on the stage," said Neal Kirby, a spokesman for the Independent Petroleum Association of America.
"She is continually being driven to the left by Senator Sanders," said Mike McKenna, a Virginia-based lobbyist and Republican strategist. Now, "she wants to kill the American energy boom, which is something not even the Obama crew could imagine."
But Clinton's comments are not enough for some deep-green environmentalists who want an all-out ban on fracking, not just regulation making it more difficult and more expensive.
Environmental Response
"Clinton will continue to struggle to convince climate advocates that she is serious about addressing the crisis until she comes out for a full ban on fracking," Yong Jung Cho, a campaign coordinator with the environmental activist group 350 Action said in a statement. "Clinton has moved from supporting fracking to insisting on regulations that would make it impossible to frack in most places. It's high time to come out against it all together."
Sanders has pushed for an end to all oil, gas and coal development on federal lands.
By contrast, Republican presidential candidates have been uniformly supportive of domestic oil and gas development. Donald Trump, the GOP front-runner, says his support of fracking can win votes in New York, where the activity is banned.
"Shutting down U.S. production would make the United States less competitive, more reliant on foreign sources of energy and disrupt the geopolitical advantages that hydraulic fracturing delivers to our allies abroad," said Louis Finkel, executive vice president of the American Petroleum Institute, in an e- mailed statement. "The false choice offered on the campaign trail is a political stunt by those who are spouting populist rhetoric for political points; they are not being honest with American voters."
Recommended for you

Liz Truss risks Tory backlash over end to fracking ban