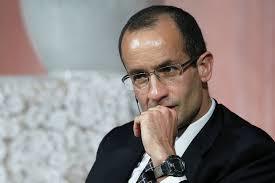 Marcelo Odebrecht, the former head of one of Brazil's largest industrial conglomerates, was sentenced to 19 years and four months in jail for crimes including corruption and money laundering.
Odebrecht, who ran the Odebrecht SA holding company that owns Latin America's largest builder until he was arrested last year, was convicted of crimes including corruption, money laundering and criminal association, the public prosecutors office said in a statement released Tuesday.
Odebrecht was detained on June 19 as part of a coordinated federal police operation where leading executives at other construction groups were also detained. Investigators have been looking into a scheme where insiders at state-controlled oil company Petrobras and contractors allegedly raked-off vast sums from inflated construction and service contracts. Odebrecht, the grandson of late Norberto Odebrecht, founder of the conglomerate owned by the billionaire family, is one of the most prominent executives taken into custody in the so-called Carwash investigation.
Marcio Faria and Rogerio Santos, former executives at the builder, were also sentenced to 19 years and four months in jail, according to the statement.
Odebrecht's lawyers couldn't immediately be reached for comment on the sentence.
Recommended for you
X

Worker flown to ARI after falling ill offshore