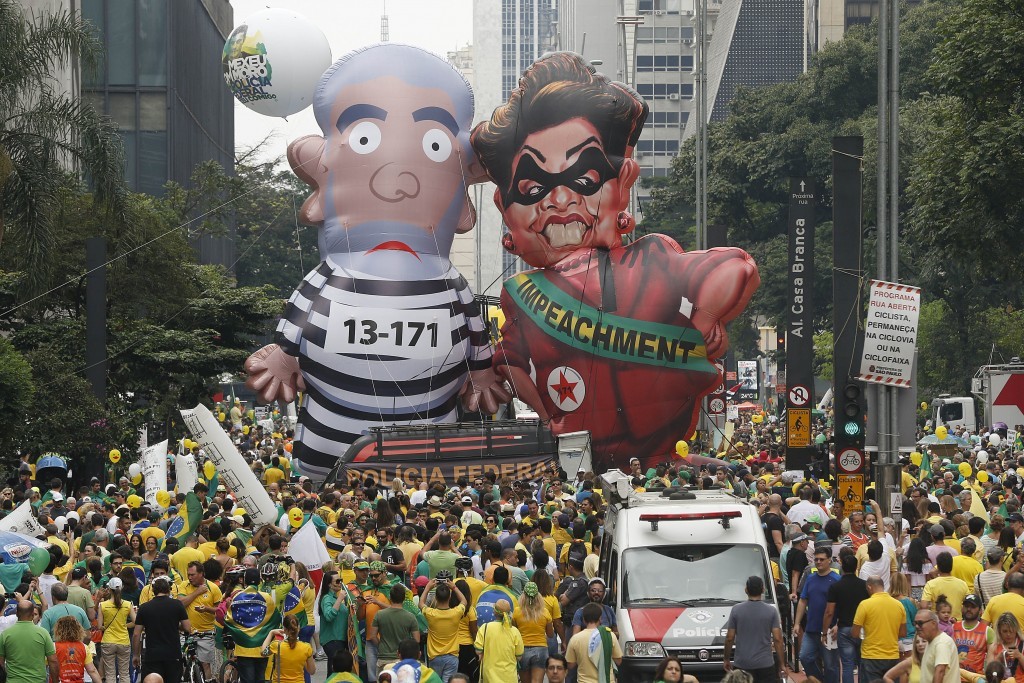 Huge demonstrations across Brazil have heaped even more pressure on embattled president Dilma Rousseff as she heads into a fight against impeachment proceedings.
According to police estimates, three million people took to the streets in 200 cities, calling on the president to resign amid widespread anger over corruption investigations and the worst recession in years.
This week lower house speaker Eduardo Cunha, a Rousseff foe, is expected to form a commission to begin impeachment proceedings over allegations of fiscal mismanagement.
He does not have any say on the panel's membership, but on Saturday members of his centrist PMDB party pledged to be more independent from Ms Rousseff's administration.
Ms Rousseff, who has said she will not resign, is also under pressure from members of her own Workers' Party, whose leaders want her mentor and predecessor as president, Luiz Inacio Lula da Silva, to intervene by taking a cabinet post and bringing in others of his choice.
But Mr Silva is himself awaiting a decision by a Sao Paulo judge on whether he will be detained on corruption charges.
Sunday's protests add to the already-difficult position of Ms Rousseff, who, in addition to the impeachment effort, is faced with a sprawling investigation by federal prosecutors into corruption at state-run oil giant Petrobras that has moved closer to her inner circle in recent weeks.
In a statement after the protests, she said: "The peaceful character of this Sunday's demonstrations shows the maturity of a country that knows how to co-exist with different opinions and knows how to secure respect to its laws and institutions."
The biggest demonstration took place in Brazil's economic capital Sao Paulo, a bastion of simmering dissatisfaction with Ms Rousseff and the Workers' Party.
The respected Datafolha polling agency estimated about 500,000 people took part in the demonstration, while police said the turnout was nearly three times that number.
About one million people joined the anti-Rousseff demonstration in Rio de Janeiro, organisers estimated.
Analysts said the strong turnout could lead to the unravelling of her fragile governing coalition.
"There is a situation of ungovernability," said Francisco Fonseca, a political science professor at Pontifical Catholic University in Sao Paulo. "The president has few cards."
He added, though, that the protests showed a "generalised discontent with the political system" without necessarily shoring up any particular opposition party or politician.
Crowds in the yellow and green hues of the Brazilian flag brandished signs reading "Workers' Party out". But demonstrators across Brazil stressed that their anger extended well beyond Ms Rousseff and her party, saying the "Car Wash" investigation into corruption at Petrobras had compromised the entire political class.
"Of course I want to see Rousseff booted out," said Maria de Lima Pimenta, a retired teacher who was at the anti-Rousseff march along Rio's Copacabana Beach. "But then the problem becomes, who will replace her? They're all crooks."
Protest organisers also stressed that the movement was not linked to any opposition political party and signs endorsing parties were largely absent from the demonstrations.
Several top politicians did turn out, including Aecio Neves, the opposition member who narrowly lost to Ms Rousseff in the 2013 presidential run-off election, and Sao Paulo state governor Geraldo Alckmin. But both were booed and like other politicians who ventured out to the demonstrations, they beat a rapid retreat.
The uncontested star of the protests was Sergio Moro, the federal judge in charge of the Petrobras case. While demonstrators denounced politicians of all stripes who have been implicated in the scandal, many brandished signs thanking him.
The Petrobras scandal has ensnared key figures from Ms Rousseff's party, including Mr Silva, as well as members of opposition parties.
Political tensions in Brazil have soared since earlier this month when Mr Silva was briefly detained by police for questioning as part of the Petrobras probe.
His supporters and detractors scuffled in front of his apartment in the Sao Paulo area and on Wednesday the tension rose again when Mr Silva was hit with money-laundering charges in a separate case.
Ms Rousseff said she would not quit, saying it was objectionable to demand the resignation of an elected president without concrete evidence the leader had violated the constitution.
"If there is no reason to do so, I will not step down," she said, calling on journalists at the event in Brasilia to "at least attest that I don't look like someone who is going to step down".