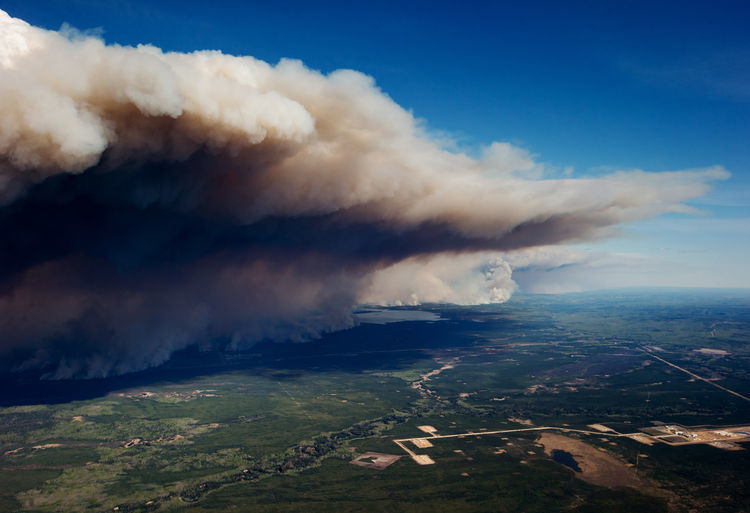 Wildfires raging through Alberta have spread to the main oil-sands facilities north of Fort McMurray, knocking out an estimated 1 million barrels of production from Canada's energy hub. Fire officials say the out-of-control inferno may keep burning for months without significant rainfall.
The blaze, forecast to expand to more than 2,500 square kilometers (965 square miles) in the next few days, made an "unexpected" move to the north Saturday, rapidly encroaching bitumen mining operations run by Suncor Energy Inc. and Syncrude Canada Ltd. The fires may soon cover an area the size of Luxembourg.
"It is a dangerous and unpredictable and vicious fire that is feeding off an extremely dry Boreal forest," federal Public Safety Minister Ralph Goodale told reporters Saturday in Regina, Saskatchewan. He said the swirling fire is not yet a threat to any additional communities.
The wildfires have led to combined productions cuts of more than 1 million barrels of oil a day, or about 40 percent of the region's output of 2.5 million barrels, based on IHS Energy estimates. The cuts, and the mass exodus of more than 80,000 people from the fires raging in Fort McMurray, represent another blow to an economy already mired in recession from the oil price collapse.
Oil-Sands Cuts
Syncrude, a joint venture controlled by Suncor, shut down its Aurora mine and Mildred Lake operation about 40 kilometers north of the city and has evacuated about 1,200 workers. Syncrude has a capacity for 350,000 barrels of oil a day. The fires are expected to reach the southern edge of Suncor's main oil-sands base near Syncrude on Saturday, said Chad Morrison, a wildfire manager for the Alberta government. Morrison said the oil facilities are highly resistant to fire with their buffer zones.
"While there is no immediate threat from fire, smoke did reach our Mildred Lake site this morning," said Syncrude spokesman Leithan Slade, in an e-mailed statement. "We will bring operations back online only when it is safe to do so."
There is no damage to any of the Suncor assets or operations in the Fort McMurray region, spokeswoman Nicole Fisher said. The Calgary-based company is using firebreaks, water sprinklers and pumps to protect the facilities, she said.
Oil Sands and the Environment: Quick Take
Suncor, Canada's biggest energy company, Phillips 66 and Statoil ASA have declared force majeure on supplies from the region. Husky Energy Inc. said Saturday it was shutting down its Sunrise facility, which has a capacity of 60,000 barrels a day and was producing about half that.
The fire reached Cnooc Ltd.'s Nexen operation to the south of the city, forcing a shutdown of that facility, which has a capacity of 92,000 barrels. Officials haven't been able to assess if there was damage, due to the clouds of smoke. The facility is "probably OK," Morrison told reporters Saturday in Edmonton.
Disruptions to oil production, the lifeblood of Alberta's economy, add to a human catastrophe as blazes razed entire neighborhoods in Fort McMurray, the gateway to the world's third-largest crude reserves. Police and military officials are working to evacuate the remaining 10,000 residents who had gone north to work camps now considered unsafe, escorting them in convoys of 50 vehicles at a time through the smoke and ash. Alberta Premier Rachel Notley said most of the families who fled to the north camps will be relocated by the end of Saturday.
Sam Osterhagen, a welder who was working near the oil hub, spent the bulk of his 40th birthday in the convoy after lining up early in the morning. He and his coworkers were stuck for the last three nights at a campsite, watching as the fires burned. It looked like an orange ball glowing in the distance, with flames a couple hundred feet high, they said.
"I didn't think I was going to make it," Osterhagen said, after stopping with his buddies to grab a burger at Wally's Fast Food in Grasslands on Highway 55, about halfway from Fort McMurray to Edmonton. It had taken them seven hours to drive a distance that would normally take two.
Passing through Fort McMurray, the men could see vast swaths of burned-out forest and homes and buildings destroyed, though the downtown seemed to be intact, they said. The smoke was thick in the air and embers glowed in the burned brush along the roadside until they got well south of town, they said.
The inferno around Fort McMurray may become the costliest catastrophe in the country's history with insurance losses potentially reaching C$9.4 billion ($7.3 billion). Bank of Montreal cut its second-quarter gross domestic product growth estimate to zero from 1.5 percent, citing "severe disruptions to oil production" due to the fires. BMO said the estimate was a placeholder, dependent on receiving more information on the scope of the disaster.
The economic cost of the disaster is "unquantifiable," Goodale said, but it will be "far-reaching and deep."
Rain Coming
Environment Canada said temperatures rose to 27 degrees Celsius (80 degrees Fahrenheit) on Saturday, about 10 degrees warmer than normal. There is a 30 percent chance of rain on Sunday, followed by cooler temperatures next week, which should "hold the border" of the blaze, Morrison said. Goodale said only a rain downpour will be able to stop the fires, which are also burning in neighboring provinces of British Columbia and Saskatchewan.
Oil Crash
Suncor said it issued various notifications of force majeure — a provision protecting companies from liability for contracts that go unfulfilled for reasons beyond their control — to customers, service providers and other third-party contracts that will be affected by reduced or stopped operations in the region. Phillips 66 declared force majeure after cutting production in response to the fires, a person familiar with the matter said, asking not to be named because the information isn't public. Statoil said it declared force majeure on production after curtailing supplies from its Leismer facility. Cenovus Energy Inc. said it was evacuating non-essential staff.
Major oil-sands sites are near Fort McMurray and are concentrated to the north. Most of Alberta's oil and gas facilities have their own fire-fighting crews and have physical defenses against wildfires, such as gravel fields and fire breaks, Morrison said.
There were a total of 40 fires Saturday, down from 49 Thursday, with seven considered "out of control," according to government estimates. More than 1,400 firefighters, approximately 130 helicopters, and 27 air tankers are fighting the fires.