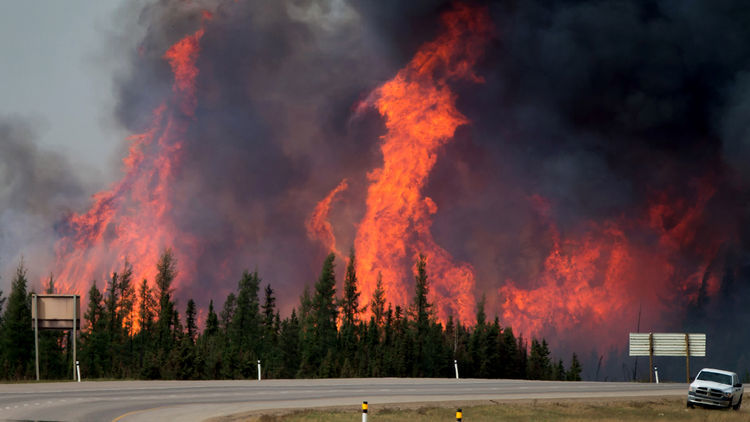 Alberta officials are counting on cool, humid weather in the coming days to help them better contain a raging wildfire in the heart of Canada's energy industry and allow them to lift evacuation orders affecting some of the biggest production sites.
The fire that knocked out more than 1 million barrels a day of oil-sands output is being held by improved weather conditions heading into the weekend, provincial fire officials said in a media briefing on Friday.
More success in keeping the flames at bay and improved air quality are needed before the government will allow workers to return to facilities including some of Suncor Energy and Syncrude mines north of Fort McMurray.
"We are reassessing that evacuation on an ongoing basis," said Shane Schreiber, managing director of the Alberta Emergency Management Agency.
"I can't see that being lifted until the air quality index gets stable and until we get a couple more days of good firefighting done on that fire."
More than 80,000 people fled the wildfire that has been ripping across northern Alberta since the start of the month.
While some oil-sands facilities have restarted since the initial threat passed, others have been forced to abandon resuming operations after flames turned back north of Fort McMurray earlier in the week.
The fire is expected to be Canada's costliest disaster for insurers and is dealing a blow to Alberta's energy-dependent economy, already reeling from a market downturn for oil.
Suncor, Canada's largest energy company, evacuated workers earlier this week from three production sites that account for the bulk of its upstream volumes: the base plant mine, MacKay River and Firebag.
Syncrude, the joint venture controlled by Suncor, evacuated the Mildred Lake and Aurora mines. Some of these evacuations were mandatory, while others were initiated by the companies.
"There's no restart timeline for our operation," Will Gibson, a spokesman for Syncrude, said by e-mail on Friday. "We continue to have critical staff on both sites, including emergency responders, to ensure the safety and stability of our operations."
There is no update on the status of Suncor's facilities, Sneh Seetal, a company spokeswoman, said in an e-mail on Friday.
Industrial, wildfire and municipal firefighters are working together to protect oil-sands sites that are already resistant to flames because of their cleared vegetation, and more progress is expected over the weekend with the improved weather, said Chad Morrison, a wildfire manager with the Alberta government.
There is no immediate risk to the facilities, he said. The fire has remained since Thursday at about 5,000 square kilometers (1,930 square miles), more than five times the size of New York City, he said.
"We're optimistic that in the next few days, the fire's not going to move with any significance, even with a bit of wind," Morrison said. "If we get a little help from Mother Nature, we'll take it."