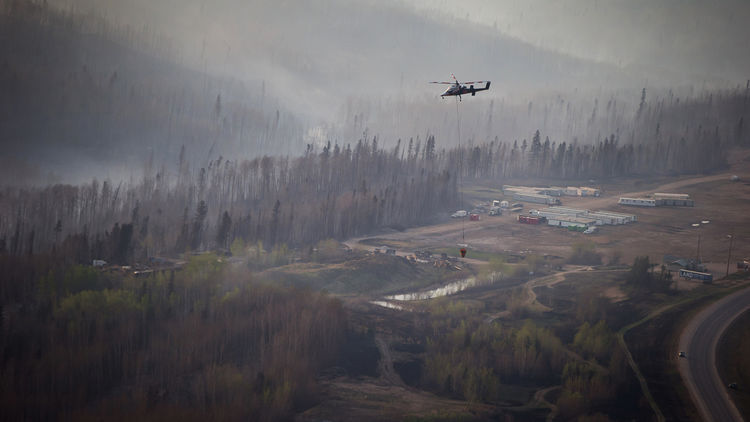 Waseem Amin has been making big plans for his return to Fort McMurray, the Canadian oil-sands town devastated by wildfires last month. He came home to a city smelling of smoke and surrounded by charred hills dotted with hulks of burned trees.
Amin, 38, who spent the better part of a month living in a student housing compound after fires forced 80,000 people to evacuate the town in northern Alberta, is counting on rebuilding efforts to give his trucking business a boost following a nearly two-year-long recession caused by the oil industry downturn.
He was one of the lucky ones — his apartment largely escaped the fire, he said Wednesday as he made his way to survey the damage. Residents from areas that were razed by the fires are still not allowed back.
"Everything is going to pick up now," Amin said, standing outside an information center clutching a bag of supplies. "I have to help the community clean up."
Residents are returning to the heart of Canada's oil sands for the first time since fleeing the fire that began May 1 and curtailed more than a million barrels of daily crude output, adding another layer of hardship to Alberta's economic woes. As roadblocks opened Wednesday morning, people trickled back in campers, trucks and cars.
The first glance of the town for those returning will be a "shock" at seeing how much damage the fire caused, Mayor Melissa Blake said at a briefing.
Kenny Gibbons, 33, returned to his partially burnt property early Wednesday with a small barbecue in the back of his truck. With his backyard, deck and garage destroyed by the wildfire, he needed a smaller grill to fit on the front porch of his six-year old home.
Mike Marchand, a 59-year-old crane operator for Suncor Energy Inc., has lived through oil crashes and labor disputes, but nothing like what happened last month, he said.
The day the fire spread to Fort McMurray, the resident of 40 years took to the road as propane tanks on trailers exploded around him and the home he built eight years ago burned to the ground. A few months shy of his 60th birthday, he said the time may have come to call it quits and retire.
"When you lose everything, it's indescribable unless it happens to you," he said in a telephone interview. "A month later and I still can't come to terms with it."
The returnees mingled with police and clean-up crew at the local Safeway grocery store, which was prepared for a return to business with well-stocked shelves. Residents mowed lawns that had overgrown after a month without care. The hospital was open for business with patients already arriving.
The blaze destroyed about 10 percent of the city's structures and forced residents to flee past burning trees as embers crossed their windshields. About 40 percent of the country's oil-sands production was curtailed as companies including Suncor and Syncrude Canada Ltd. halted operations and evacuated workers.
"A lot of jobs will be created" in the cleanup and rebuilding, said Adil Iialiyed, a construction worker and immigrant from Kazakhstan, as he tried to catch his dog, which had become loose in the neighborhood. Iialiyed, 31, fled with his family as flames descended a hill to burn homes just a block away from his parents' house.
As people returned to Fort McMurray, more than 2,000 firefighters from as far as South Africa continued to battle the blaze, which has grown to about 5,800 square kilometers (2,240 square miles) and extended eastward into Saskatchewan.
Home values in the city were down 8 percent in March from the previous year with the median single-family home selling for C$658,000 ($503,000), according to the Fort McMurray Real Estate Board. Many returnees now begin the process of collecting insurance money.
Oil-sands companies including Imperial Oil Ltd. and Statoil ASA have begun restarting their sites after the blaze. Suncor said Sunday that it expects to soon be producing crude from the three sites it closed. Officials worked to restore power and basic services prior to the planned June 1 return date. Husky Energy Inc. restarted its Sunrise site but said Wednesday it won't ramp up to full capacity until 2017.
The re-opening of the town will be done in phases. Those who lived downtown, an area spared from the worst of damage, were among the people first permitted to return to their homes. Roads leading to the most damaged neighborhoods including Beacon Hill and Abasand were blocked by police.
On Monday, Alberta Premier Rachel Notley announced that as many as 9,000 residents of some badly burned neighborhoods won't be able to return until the area is cleaned and potentially toxic ash removed, a process that could take until September.
"Today is not the end of this story, it's not yet the return to normal life and it's not yet a celebration," Notley said in a briefing Wednesday. The work of rebuilding the city will take years, she added.
Pat McIssac, 58, returned home to discover that part of his backyard fence and a tree had been destroyed in the blaze and the house was in "disarray" after rescuers entered to save two cats.
The fate of a 2007 Nissan Maxima he left parked further South in Anzac was unknown, but his single-story 70s-era house was intact, he said. About six neighboring houses weren't so lucky, with each partially or fully destroyed.
"Because of all devastation around town, I think there is going to be a fairly major boom here for the next year or two rebuilding," the 40-year resident of Fort McMurray and supervisor at Suncor said, sitting on a neighbors' brick wall. "I like it here. I love the work."