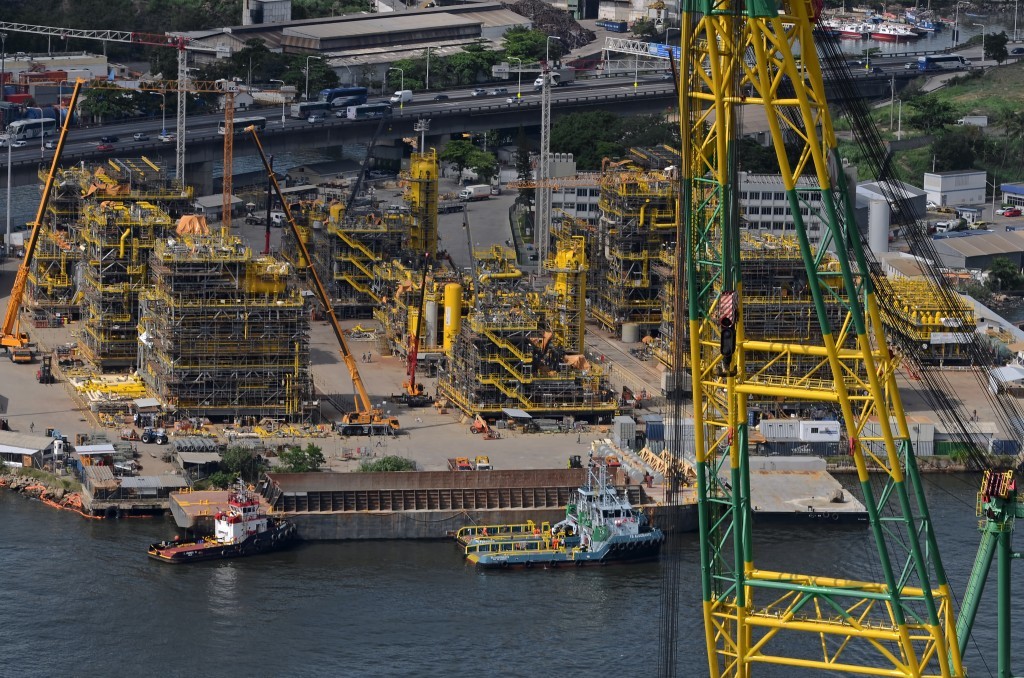 If there's one industry where all of Brazil's political and economic upheavals come together, it's shipbuilding.
A Rio de Janeiro shipyard, where suspended president Dilma Rousseff once promised to employ an army of welders, electricians and engineers to make offshore oil platforms, is all but shut. Every other day, 50 workers on average hand in their helmets and are sent home jobless, according to the yard's union. More than 5,000 were on site in late 2014, and by the end of this month they are all expected to be gone.
The Inhauma shipyard is the latest to succumb to a crisis that has wiped out nearly half of the country's naval industry jobs in the past two years, leaving companies bankrupt and creditors unpaid. It also represents the failure of Brazil's plans to build almost from scratch a high-end industry that would compete with Asian yards and supply the most ambitious offshore oil expansion on Earth.
State-controlled Petroleo Brasileiro SA, which had agreed to pay more to have platforms built at home to help jump-start the naval industry, is now sending work back to Asia, underscoring the vulnerabilities of an industry that basically relies on a single client. Petrobras pumps about 90 percent of Brazil's oil, and the yards expanded to meet its ambitious growth targets. Those plans fell apart after the Rio de Janeiro-based producer buried itself under the biggest debt load in the industry and became the focus of a sprawling corruption scandal.
"It's a combination of the economic crisis, the political crisis, lower oil prices, the corruption scandal, just everything together," union leader Jesus Cardoso, who has been helping Inhauma workers with their dismissal rights, said in a phone interview.
Four vessels were supposed to have hulls converted at Inhauma for $1.7 billion, and then collectively pump 600,000 barrels a day, or about 30 percent of Brazil's current oil production. Two of them were done entirely by COSCO Shipyard Group in China, and a third was only sent to Brazil for final touches. Just one of them, the hull for the P-74 platform, was converted in Brazil, and two years behind schedule.
To meet Petrobras' expansion plans, Inhauma was fully refurbished by Enseada, an engineering company that has taken collateral damage in an ongoing pay-to-play scandal known as Carwash.
In Rio and the surrounding areas alone, around ten shipyards and related construction sites have closed doors, filed for bankruptcy protection or halted operations as orders dry up, said Cardoso.
Things looked different on a hot and sunny day back in 2013 when Rousseff paid a visit to Inhauma. No longer would Brazil need to rely on foreign yards to deliver the complex offshore equipment needed to extract crude. The jobs and profits would remain in Brazil as part of a virtuous cycle of profits and investments that would populate the coastline with state-of-the-art industrial centers.
Almost ten shipyards were simultaneously being built from scratch or expanded with help from subsidized government loans. The new projects were granted multi-billion dollar contracts with Petrobras even when the sites were still covered in brush. Employment was rising, and Rousseff's plan to revive the shipping industry with Brazil-made platforms drew cheers every time she mentioned job creation.
"They said there was no way, that there wasn't such a thing as producing platforms in Brazil, to open shipyards, create more jobs," she said, wearing an orange Petrobras jacket, to hundreds of workers in blue jumpsuits. "They said it was a dream, and that we were completely crazy."
Then oil prices plunged, the corruption scandal exploded, driving Petrobras to cut investments by more than half and cancel orders across its supply chain.
The chief executives of Odebrecht SA, OAS SA and UTC Engenharia SA — companies who together control 70 percent of Enseada — have been convicted of crimes including corruption and forming a cartel. Enseada declined to comment on the contract with Petrobras for works at Inhauma due to a confidentiality agreement. Petrobras didn't respond to a request for comment.
"We don't know what is going to happen next," union leader Alex Santos said by phone, adding that the lack of contracts have a domino effect for the whole oil supply chain. "We're loosing jobs and are expecting that it will get worse."
Recommended for you

Keppel O&M says it has fully paid $65m in fines to Brazil authorities