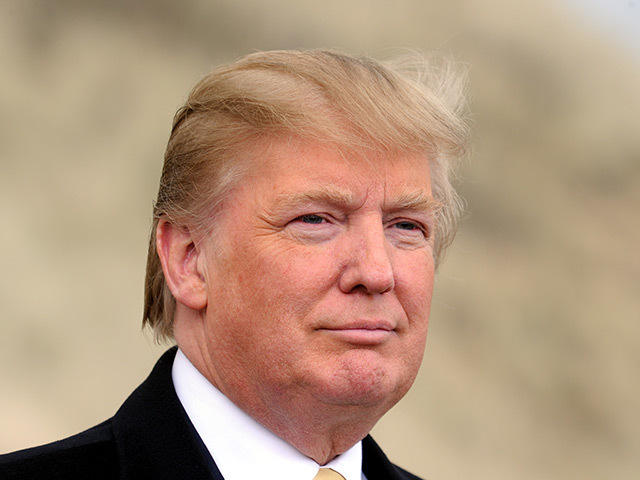 Republican presidential candidate Donald Trump has suggested that Hillary Clinton's emails may be responsible for the death of an Iranian nuclear scientist executed for spying for the United States.
Mr Trump, using the "people are saying" sentence structure he often favours to make accusations, tweeted: "Many people are saying that the Iranians killed the scientist who helped the US because of Hillary Clinton's hacked emails."
The billionaire property tycoon did not say which people he meant.
The FBI has said there is no evidence that Democrat White house hopeful Mrs Clinton's emails were hacked due to her use of a private account and server during her tenure as US secretary of state.
Mr Trump was referring to Shahram Amiri, who defected to the US at the height of western efforts to thwart Iran's nuclear programme.
Arkansas senator Tom Cotton, a Trump supporter, suggested in an interview on Sunday that there could be a link between the emails and the execution of Shahram Amiri.
He told CBS's Face The Nation that on Mrs Clinton's private server "there were conversations among her senior advisers about this gentleman".
"That goes to show just how reckless and careless her decision was to put that kind of highly classified information on a private server," he said.
Mr Amiri defected to the US at the height of efforts by the West to thwart Iran's nuclear programme. When he returned in 2010 he was given a hero's welcome and greeted with flowers by government leaders. Then he mysteriously disappeared.
Mr Amiri's case indirectly found its way into the spotlight last year with the release of US State Department emails sent and received by Mrs Clinton.
One email forwarded to her by senior adviser Jake Sullivan on July 5, 2010 – just 10 days before Mr Amiri returned to Tehran – appears to reference the scientist.
"We have a diplomatic, 'psychological' issue, not a legal one. Our friend has to be given a way out", the email by Richard Morningstar, a former State Department special envoy for Eurasian energy, read: "Our person won't be able to do anything anyway. If he has to leave, so be it."
Another email, sent by Mr Sullivan on July 12, 2010, appears to obliquely refer to the scientist just hours before his appearance at the Iranian-interests section at the Pakistani embassy in Washington became widely known.
"The gentleman … has apparently gone to his country's interests section because he is unhappy with how much time it has taken to facilitate his departure," Mr Sullivan wrote.
Mrs Clinton's decision to store her emails on a private server in her New York home sparked an FBI investigation and has become a dominant issue in the presidential campaign.
Her spokesman said Mr Trump was making up reports of "many people".
Nick Merrill tweeted back: "'Many people are saying' = 'I made this up'."
Mr Trump's provocation came a few hours after the unusually disciplined speech in Detroit on his economic plans for the country, intended in part to reassure Republicans unnerved by his multiple stumbles over the previous week.
"After a morning on the teleprompter, the muzzle was bound to come off," Mr Merrill added.
Earlier Mr Trump hit out at a group of Republican former national security officials who are openly opposing him, saying they are the reason the world is "a mess".
Fifty Republicans signed an open letter calling Mr Trump the most reckless candidate in history. Many are long-standing Trump critics, but the letter has some new names.
Mr Trump said their signatures made clear they were to blame for making the world so dangerous, calling them "failed Washington elite" who must be held accountable.
He tied the signatories to Mrs Clinton and said together they were responsible for the rise of the Islamic State group.
Meanwhile Susan Collins, one of the most moderate Republicans in the Senate, said on Tuesday she would not be voting for Mr Trump as president.
"This is not a decision I make lightly, for I am a lifelong Republican," Ms Collins said in a column in The Washington Post. "But Donald Trump does not reflect historical Republican values nor the inclusive approach to governing that is critical to healing the divisions in our country."
In the article, on the Post website, Ms Collins said that, over time, she had "become increasingly dismayed" by Mr Trump's "constant stream of cruel comments and his inability to admit error or apologise".
"I had hoped that we would see a 'new' Donald Trump as a general election candidate – one who would focus on jobs and the economy, tone down his rhetoric, develop more thoughtful policies and, yes, apologise for ill-tempered rants," she wrote.
"But the unpleasant reality that I have had to accept is that there will be no 'new' Donald Trump, just the same candidate who will slash and burn and trample anything and anyone he perceives as being in his way or an easy scapegoat."